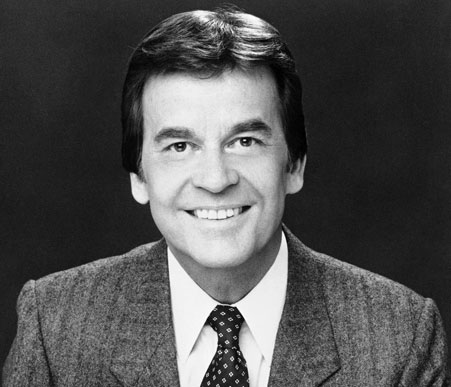 Dick Clark, famed TV producer and personality, has passed away. The longtime host of Dick Clark's New York Rockin' Eve — nicknamed "America's Oldest Teenager" for his youthful look — was 82 years old. According to ABC News, Clark died of a massive heart attack at St. John's Hospital in Santa Monica, Calif., following an outpatient procedure Tuesday. 
The Emmy-winning Clark had been a familiar face on television for generations of viewers until he suffered a stroke in 2004. Fans, however, continued to see Clark deliver the countdown every year on New Year's Eve, even once Ryan Seacrest had taken over hosting duties in 2005.
Clark had spent much of his life on the air — he first was heard on the radio as a teenager, filling in for announcers at the upstate New York station WRUN. He began his career as a force in the music industry in the 1950s as a disc jokey for his own show, Dick Clark's Caravan of Music, which led to ABC's American Bandstand. On the show, Clark served as host for not only audiences, but a group of young teenagers appearing on the series to dance and listen to live music from the likes of Elvis Presley and Chubby Checker (and, in subsequent decades, music acts as diverse as Run DMC). Bandstand was such a phenomenon, it launched a catchphrase: "It's got a good beat and you can dance to it." 
Clark certainly had his finger on television's pulse: His success on Bandstand led to a career in producing. Dick Clark Productions — which would go on to oversee successful specials and shows like the Golden Globe Awards and So You Think You Can Dance — also brought viewers New Year's Rockin' Eve, which began broadcasting annually on Dec. 31, 1972. Along with hosting ABC's New Year's ceremony, Clark emceed game shows like Scattergories, The Challenges, and, most famously, Pyramid. (He even appeared on its 2002 revival.) All of his on-air time added up to 7,500 hours of television programming, according to the Museum of Broadcast Communications (via ABC News). 
His impressively relentless television work — he also emceed over 250 specials — garnered plenty of critical acclaim. Clark boasted five Emmys, including a Daytime Emmy Lifetime Achievement Award. And Clark was quite popular with the viewing public: The host was such a perennial TV icon, Clark — and his youthful appearance — became a pop culture magnet. The TV personality was name-dropped in The Simpsons and cameo-ed on series like Just Shoot Me, The Fresh Prince of Bel-Air, and Dharma & Greg. 
Clark inspired not only television writers, but other famous on-air personalities. Clark's
New Year's Rockin' Eve
 successor, Ryan Seacrest, has always called the
American Bandstand
 host his own American idol. As Seacrest tweeted Wednesday following news of Clark's death: "I am deeply saddened by the loss of my dear friend Dick Clark. He has truly been one of the greatest influences in my life." But perhaps the greatest joy in watching Clark on-air was his contagious enthusiasm — he's said that his New Year's duties were "not really a job" and always put forth a charming humility. As he
once said
, "I don't make culture. I sell it." Consider us sold.
Image Credit: AP Images
More:
Why There Will Never Be Another Dick Clark