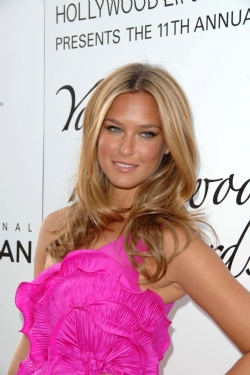 No one is enthusiastic about going through airport security, but a number of stars are speaking out about what they say were overly-invasive searches by TSA employees. This week Jennifer Hudson was photographed wincing and sticking her tongue out during a body search, and model Bar Refaeli Tweeted, "I got a security 'patdown' by a woman at the airport that made me feel very uncomfortable and left no doubt about her sexual preferences."
Her Tweet may not be around for long, since last year Dancing With the Stars' Cheryl Burke deleted a similar comment. "I think I might have just gotten fingered by a tsa agent!!" she Tweeted. Jersey Shore's Jenni Farley also shared angry post-patdown thoughts on Twitter, complaining that she was singled out at a North Dakota airport and "treated like a criminal." Khloe Kardashian got in trouble with victim's rights advocates after saying in a TV appearance that by administering pat-downs and X-rays, TSA agents "basically are just raping you in public."
It isn't just female stars who are complaining about being molested by airport security. After going through security last spring, Wil Wheaton Tweeted, "I got groped so aggressively by TSA at LAX just now, I never want to fly again. Not even my doctor touches my junk that much. F**k you, TSA." Brian Williams told David Letterman that when he goes though LAX, "They go, they go right in. This new thing, they go right after Dave and the twins. ... Either you go in the little thing and you put your arms up and parade around, and somebody in a booth somewhere looks at you naked through your clothing, or you can get the prod of your schmegeggy."
Though celebrities are more likely to fly first class than the rest of us, it seems they're treated just like the rest of us when going through security. Except, no one has any particular interest in checking out the content of our underpants.
More:
Johnny Depp Almost Died in a Plane Crash
Patrick Dempsey Death Hoax: Other Celebs Still Alive & Kicking