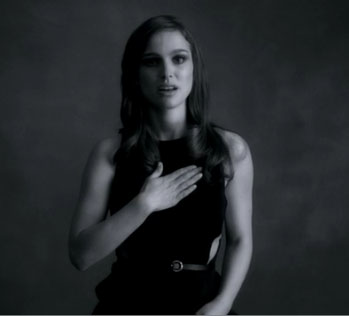 Though Paul McCartney deserves points for releasing the latest video from his album Kisses on the Bottom in sign language, deaf people may have been a little confused while watching "My Valentine." Though their performances looked beautiful, stars Natalie Portman and Johnny Depp made two major errors while signing. One gave the love song an entirely new meaning, and the other is just plain hilarious.
This week McCartney debuted three versions of the video, two with the stars alone, and one with their performances spliced together. Throughout the song Depp signed "my enemy" rather than "my Valentine" (at 2:50 in the video below). Plus, rather than signing "always," Portman makes the (rather graphic) sign for "tampon" (at 0:55 below).
Still, a spokesman from the British Deaf Association gave McCartney credit for drawing attention to the language. "It would have been nice if genuine deaf people had been used," he said, however, "It's great that famous people such as Johnny Depp and Natalie Portman are highlighting the use of sign language."
More:
Natalie Portman and Johnny Depp Make Cameo in New Paul McCartney Video
Natalie Portman Shows Off Wedding Ring on Hike With Baby
Natalie Portman May Reunite with The Wachowskis for 'Jupiter Ascending'
[Spinner]