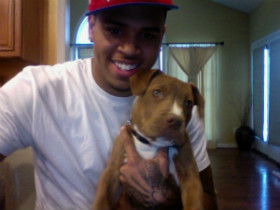 Chris Brown is known for a lot of things: epic morning show freakouts, jaw-dropping dance moves, Twitter wars, and, oh yeah, that little Rihanna incident. 
But now, add another thing: Dog breeder and salesman. Brown put seven puppies up for sale at the web site www.cbbreeds.webs.com. The price tag? $1,000 per pooch. 
And the dogs are pretty darn adorable, with names like Precious, Pretty, Music and Beauty. 
Sure, Brown hasn't had the best track record with dogs. Last year, he was accused of racing dogs in the hallway of his West Hollywood complex after residents complained he was "the neighbor from hell." 
Won't you help these little guys find a nice home?