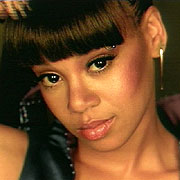 Hot on the heels of Tupac Shakur's faux-resurrection at the recent Coachella Music Festival in California, the late Lisa 'Left Eye' Lopes is set to undergo the hologram 'treatment' and reunite with the all-girl group TLC for a tour later this year. (That classic "Waterfalls" video is about to take on a whole new level.)
The two remaining members of the group — Tionne 'T-Boz' Watkins and Rozonda 'Chilli' Thomas — made the announcement on Wednesday, April 25 exactly 10 years to the day that Lopes died in a car accident in Honduras.
Five cities have reportedly been lined up and confirmed for the reunion tour, with more on the way. CrazySexyCool idea or a terrible one?
More:
Tupac's Hologram Appearance at Coachella Tops Festival's Highlights
Tupac at Coachella: The Greatest Holograms in History
[TMZ]