Ashton Kutcher is looking for a fresh start after splitting from his wife Demi Moore in November. So, naturally, like any other single person who finds nights at home counting his ridiculous fortune more palatable than bar-hopping, the 34-year-old actor is now trying online dating via... at least to promote Popchips via the new Facebook app, worldwidelovers.com. But try matching with Kutcher, and you could find yourself linked to one of his four other personalities. (Like Hollywood.com's TV editor, Kelsea Stahler, seen below with one of Kutcher's personalities.)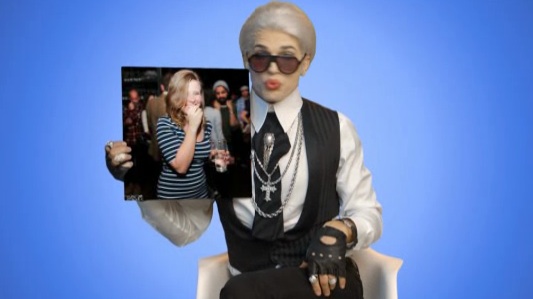 So who are your options? In a YouTube video, we meet the five eligible bachelors. One is Kutcher himself, but the other four are characters: There's Raj, the Bollywood producer who is infatuated with the Kardashians and Snooki; Nigel, a stoner hippy looking for "higher planes of consciousness"; Darl, a Karl Lagerfeld wannabee who likes to share crackers with his dog PooPoo; and Sworfish, a redneck covered in tattoos and sporting a long, untamed beard. As Kutcher says to the dating service as himself, "Your waiting room is like a freak show."
Of course, lest you Kutcher has actually taken to the online dating world, the video and Facebook app are an ad campaign for Popchips, which Ashton has been associated with since 2010. (His exact role with Popchips? President of Pop Culture.) So, sorry ladies: You not going to get access to that $16 million/year deal from your keyboard.