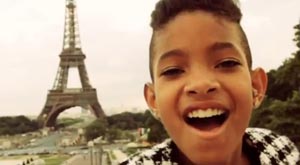 There is one thing you can say about the non-stop entertainment factory that continuously churns product out of the Pinkett-Smith household: they sure know how to make a hit. This time little sister Willow Smith is following up her hit song "Whip My Hair" with another poppy ditty "Do It Like Me (Rockstar)". It's enough to make you want to get jiggy with it!
Chances are most of us can't do it just like Willow since our fathers aren't international movie stars who drag us to New York, Paris, and beyond when filming, but Willow is, so she might as well take advantage of it. Her video takes her from the gritty subway of Manhattan to the romantic Eiffel tower and to an expansive balcony overlooking New York, which is probably just outside her bedroom window. What we wouldn't give for that real estate!
The song is cute and catchy and Willow is as energetic as always rocking outfits from Lady Gaga couture to Century 21 casual. God, we all are gonna wanna do it like Willow, but none of us can afford to.
Follow Brian Moylan on Twitter @BrianJMoylan
More:
Photo: Willow Smith Shaves Her Head
Will Smith Considering Remaking 'Annie' With Daughter Willow