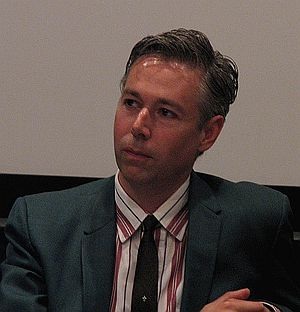 Just one day after Adam "MCA" Yauch passed away on May 4, HBO aired the 2012 Rock And Roll Hall of Fame Induction Ceremony honoring Guns N' Roses, Red Hot Chili Peppers, and of course, the Beastie Boys. While the ceremony was filmed back in April, the special included a tribute to the Beastie Boys and a special reading from a letter composed by Yauch.
Rappers Chuck D and LL Cool J introduced the Beastie Boys. "We are here to induct the Beastie Boys into the Rock And Roll Hall of Fame," LL Cool J said. "The reason I'm here tonight and the reason that this was so important to me is because if it wasn't for the Beastie Boys, I wouldn't have my career that I have today. The Beastie Boys actually played my demo tape for [record producer] Rick Rubin in the NYU dormitory. A lot of people don't know that."
Beastie members Adam "Ad-Rock" Horowitz and Michael "Mike D" Diamond then took the stage to thank their family and friends. Sadly, when the ceremony was filmed on April 14, Yauch — who was suffering from cancer — was too sick to attend. "Adam would like to read a note that our fellow band member, who we could not have ever possibly done all of this stuff or we could not have been the family that we became," Diamond said. "Adam Yauch, MCA, wrote this speech and it was in his house, his parents' house in Brooklyn, I remember I would go every day after school and we would make a damn god awful racket. I can't believe they let us do it."
Horowitz then read the letter: "I'd like to dedicate this award to my brothers, Adam and Mike, who've walked the globe with me. To anyone who's been touched by our band, who our music has meant something to, this induction is as much ours as it is yours. To
Kate Schellenbach
. To
John Berr
y. To John Berry's loft on 100th St. and Broadway, where John's dad would come busting in during our first practices screaming, "Would you turn that f***ing s*** off already!" To my loving and supportive parents, Noel and Frances Yauch, and to our home in Brooklyn where we used to practice on hot Brooklyn summer days after school, windows wide open to disturb the neighborhood. But most of all I'd like to thank and dedicate this honor to my smart, beautiful, loving wife Dechen and our sweet, talented, loving daughter [Tenzin] Losel. Never has a man felt more blessed than I to be able to spend my time with my two soul mates. I love you guys more than you know. I wish I could name everyone who deserves naming, but of course there's too many names to name. You know who you are, and I sent my love out to all of you. Your friend, Adam Yauch."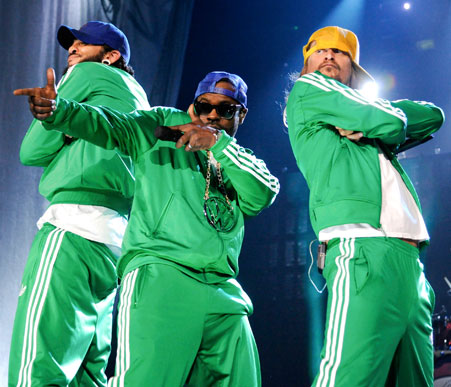 Travie McCoy
,
Kid Rock
, and 
Black Thought
then performed a tribute of Beastie Boys' songs including "No Sleep Till Brooklyn" and "The New Style." 
Captain Kirk Douglas
 and
Questlove
from The Roots joined the trio on stage mid-performance. HBO concluded the monumental special by displaying a photo of MCA with the loving caption, "In memory of Adam Yauch."
More:
How Adam Yauch Rocked Hollywood With Oscilloscope
Celebrities Mourning Adam Yauch on Twitter