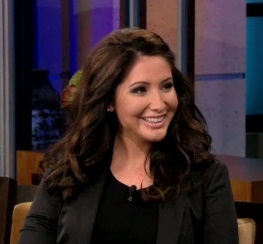 President Barack Obama's vocal support of gay marriage has elicited a variety of responses. On the side of opposition, there is Bristol Palin, 21, who took to her blog Thursday to express her disapproval with the President's ideology. She also seems to not really like Glee, which is a point she managed to intertwine with the issue in her latest entry.
Palin lambasted Obama's announcement, specifically focusing on his anecdote about his young daughters, Malia, 13, and Sasha, 10, and their attitudes toward homosexuality. Obama referenced the fact that his daughters have had the opportunity to be surrounded by friends with homosexual parents. Because of this, they foster a natural understanding of the equality between all people, regardless of sexual identity.
From this, Palin extracted the idea that Obama "made a massive change in a policy position that could affect the entire nation after consulting with his teenage daughters," italicizing the word "teenage" to express her disapproval. Palin seems to prefer a scenario in which Obama would "explain to Malia and Sasha that while her friends parents are no doubt lovely people, that's not a reason to change thousands of years of thinking about marriage. Or that — as great as her friends may be — we know that in general kids do better growing up in a mother/father home."
Palin concluded her post by taking a swing at Glee. "It would've been nice if the President would've been an actual leader and helped shape their thoughts instead of merely reflecting what many teenagers think after one too many episodes of Glee," she said.
Hollywood.com reached out to GLAAD spokesperson Rich Ferraro to comment on Bristol's post. Ferraro stated, "Glee is showing teens that everyone should be supported and treated with respect, but maybe Bristol was brought up with different values. Bristol's views are at odds with most young people today including many celebrities across political persuasions, races and faith traditions who are speaking out in support of marriage and their gay friends, families and coworkers."
More:
President Obama & Jimmy Kimmel Join the Kardashian-Slamming Bandwagon
Jon Lovitz Calls President Obama a "F**king A**hole"
Ted Nugent: "I'm a Black Jew at a Nazi-Klan Rally"