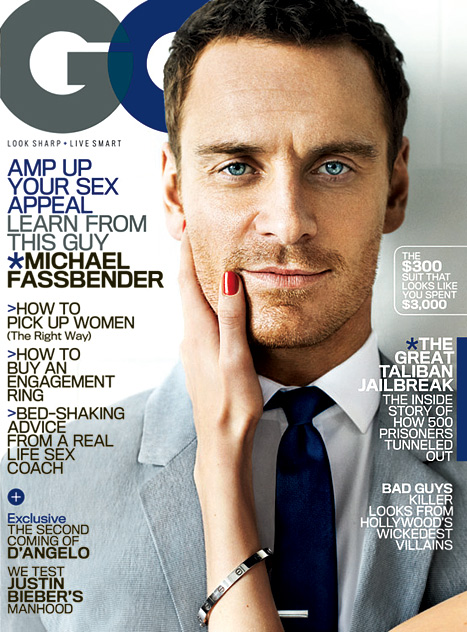 Well, that's just cruel GQ. You can't give Michael Fassbender fans pictures like this and this and – egads! – this to gawk at and then inform us, in the very same cover story about the Prometheus star, that he's no longer single. (Oh, there's this picture in there, too, you say? Okay, all is forgiven.)
The handsome 35-year-old star opened up for the first time about his girlfriend, Shame costar Nicole Beharie, with whom he shared some steamy scenes in the gritty 2011 sex addiction drama. "I'm seeing Nicole, we're trying to see each other as often as possible," he tells the magazine, "That's kind of difficult when she lives [in New York] and I live in England."
Being the gentlemanly land shark he is, Fassbender insists there was no on-set romance, rather, the two got close after the movie wrapped. "Nothing happened while we were filming. We started talking more on the promotion thing. So, yeah, it just sort of unfolded like that."
But his relationship isn't the only thing he talks about in the cover story (whose tag line boasts that men can learn how to "amp up" their sex appeal from Fassbender. What is it with this guy and journalists?!) The Irish/German actor also chats about his reaction to his surprising Oscar snub ("It's a vanity thing. It does become important to you. And it shouldn't,") and his widely publicized nude scenes. ("It's fun to a point and after a certain point you worry that it kind of detracts from the movie.")
Follow Aly on Twitter @AlySemigran
More:
Michael Fassbender Melts Writers' Brains with His Hotness: The 5 Craziest Examples
Michael Fassbender Gets Revenge on Viggo Mortenson: Late Last Night
Michael Fassbender and Charlize Theron Gear Up in Prometheus Pics