Madonna and controversy. They go together as well as Madonna and any flower but hydrangeas. The pop icon has now once again found herself in the middle of political and press chatter after showing a photo of Marine Le Pen branded with a Swastika during a recent concert in Tel Aviv, Israel. During a performance of the singer's single "Nobody Knows Me," the photo of the Front National President appeared on stage, and Le Pen is reportedly threatening legal action should Madonna use the image again. "If she does that in France, we'll be waiting," Le Pen told the Daily Mail. "We understand how old singers who need to get people talking about them go to such extremes." (Madonna's rep has yet to respond to Hollywood.com's request for comment.)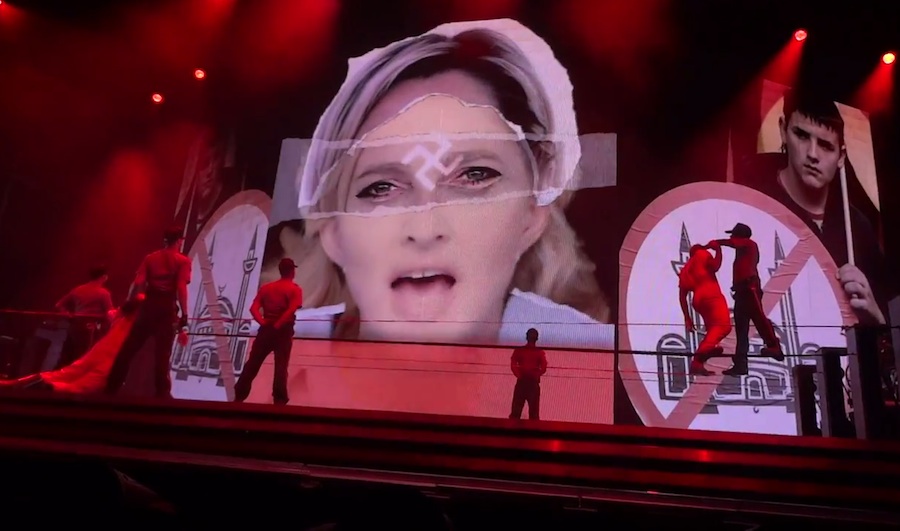 The National Front is a right-winged political group that has been accused of racism in the past — and when Le Pen took over the party last year from her notorious father, Jean-Marie Le Pen (an accused and convicted xenophobe and Anti-Semite), she pledged to reform the group. "If you accuse the National Front of being anti-Semitic and racist then you accuse a fifth of the French people of being anti-Semitic and racist," a party source said of the incident. "We are not a Nazi party, and object to being depicted as such,' said a source in the party, which won a fifth of the popular vote during the first round of presidential elections in April."
Watch Madonna's controversial performance below.
More: