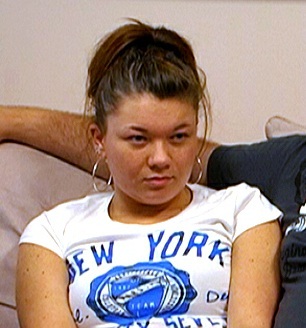 On Wednesday, it was reported that Teen Mom star Amber Portwood was sentenced to at least two years in a Madison County, Ind. prison for violating her drug court probation. If you thought that meant you wouldn't see the reality show fixture on TV for a while, you were mistaken. Portwood appeared on ABC News to give a rare behind-bars interview, touching upon her struggles with depression and her resultant suicide attempt.
Portwood tells GMA, "I took 30 Suboxone within three days," in an attempt to overdose. The Teen Mom star explains that "the depression took over," to the point where she "didn't feel like that was the life [she] wanted to live." Portwood's agonizing plight has apparently taken a turn for the better, as the reality star has a more positive outlook on thins. She is even taking proactive measures to get better.
Portwood tells ABC, "I'm going to do substance abuse classes. I'm going to get my GED," during her time in prison. Hopefully, these new steps will help to set Portwood in a healthier and happier direction for the future.

[Image Credit: MTV]
More:
Teen Mom Star Amber Portwood Is Going to Prison