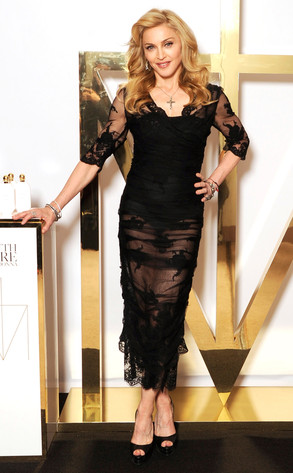 At this point, if Madonna shot lasers out of her hooha while riding bareback on a pack of wild unicorns, it wouldn't surprise us. If Madonna decided to one day declare herself Queen of the Coops and make herself a 1,000-foot-tall throne out of chicken coops, it wouldn't surprise us. If Madonna decided perform the Hippocratic Oath over dubstep music in a bear suit at the LACMA, it wouldn't surprise us. Nothing this woman does surprises anymore, including gratuitously exposing usually-covered body bits.
On Thursday while performing to a very, very receptive crowd (take that as a volume warning for all that go on to view the video below) in Istanbul, the matriarch of pop music decided she was tired of waiting for accidents to happen and threw caution (and her bra) to the wind: putting her nipple out there for everyone to see. How very 2012 of her!
The saddest part about all of this, to me, is to learn that Madonna does not wear any sort of Janet Jackson-esque torture devices on her nipple. Her nipple is simply just quite ordinary. Celebrities: they're just like us!
Check out the video below, and heed my advice to keep the volume low, and don't say we didn't warn you on the NSFW tip--there's real, live female human mammary action down below!
[Image via WireImage]
Follow Alicia on Twitter @alicialutes
More:
Madonna Takes a Swing at Lady Gaga (Again) in a Song Mash-Up — VIDEO