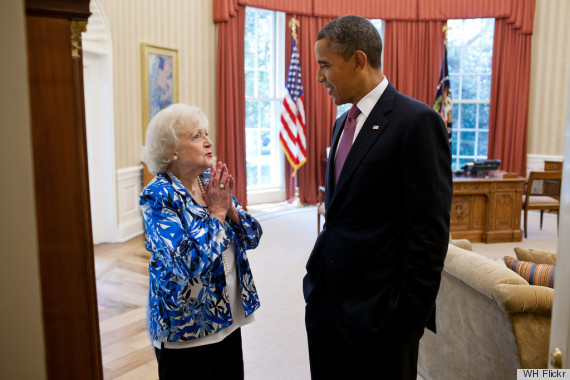 Two things we are supremely large fans of came together yesterday: Betty White and Bo Obama. NO, not that presidential guy--though he was there, too--the real star of the White House is clearly his precious pooch, the First Pup, Bo. And Hot In Cleveland star Betty White agrees. The Huffington Post reports that America's favorite Golden Girl was in DC yesterday and popped in for a quick word with President Barack Obama, but explained that "the big thrill was being with Bo, their dog. He's the cutest guy you've ever seen in your life. I spent a half-hour with him on my lap."
The 90-year-old star didn't have puppies as the only agenda item, though: White was in The District to give a speech at The Smithsonian and decided to pop over to the White House for a quick hello. (Betty's got friends in places, clearly.) We can only imagine what they must've talked about. Check out the adorable video of her visit with The Secretary of Cute below.
What do you think Barack and Betty spoke about during her visit? Leave your guesses in the comments!
[Image Credit: Pete Souza, White House Photographer]
Follow Alicia on Twitter @alicialutes
More:
Betty White Joins Twitter: 10 Tweets We Hope To See
Five Reasons We Love Betty White