Where was Rihanna when two of her exes reportedly got into a fight early Thursday morning? Not at NYC nightclub WIP, where Chris Brown and Drake reportedly brawled — with Brown, along with seven other individuals, allegedly playing the role of the victim.
A spokesperson for the New York Police Department tells Hollywood.com that authorities responded to a call at the club, meeting with eight victims with minor injuries, but have made no arrests at this time. (Though the spokesperson does confirm an investigation is ongoing.) 
Shortly after the alleged fight, Brown tweeted a photo of himself with a bloody gash on his chin. (See below.) The picture has since been deleted, but sources close to the situation are claiming Drake was the aggressor at WIP. A source tells Hollywood.com, "There were some words that were being exchanged between Drake and Chris, and a bottle was thrown from Drake's camp. At some point, something hit Chris."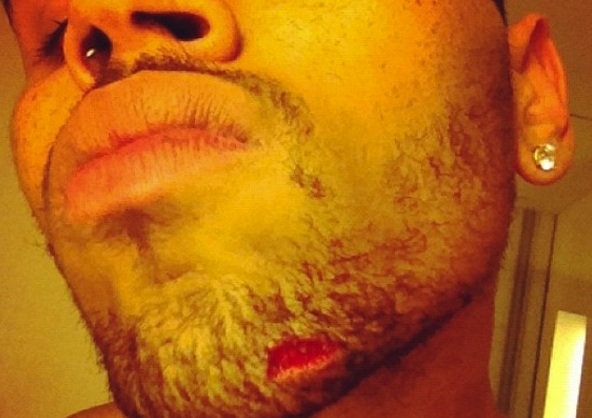 According to TMZ
, Brown's attorney has actually turned in "physical evidence" that proves that Drake was involved in the fight — and Brown has spoken with cops. TMZ also reports that Drake has not yet been named a suspect and that he is "cooperating" with investigators. Drake and Brown's reps have yet to respond to Hollywood.com's request for comment.  More:
Rihanna and Chris Martin's New Video
PETA: Chris Brown Selling Dogs Is A 'Scheme'