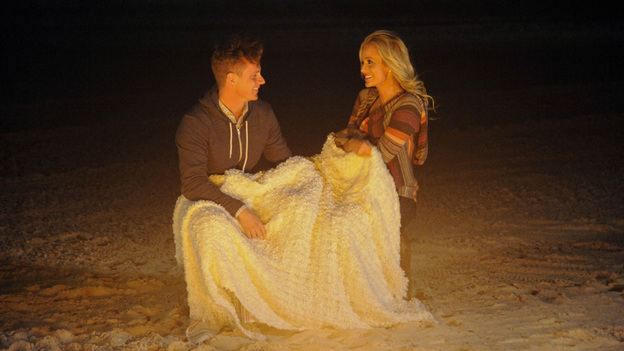 For fans of this season's The Bachelorette, the clear front-runners in the competition seem to be racer Arie Luyendyk Jr., Sean Lowe, and the surprise/underdog Jef Holm (aka Jef With One F). Jef's place in the competition seemed like a sudden one--in the beginning he mostly just got by, but by the time he had his one-on-one with this season's lady in love-waiting, Emily Maynard in London, fireworks were lit and the two clearly had a connection that came seemingly out of nowhere. The picture-perfect Barbie-esque mom with the Utah hipster with the floppy hair? Opposites attract, you guys!
So now that Jef has secured himself a place near the top of the heap, he's got to watch his back. Is Jef worried at all? Well, not really; turns out, on top of romance...there was bromance in the air, as well. Jef spoke with Hollywood.com and explained that he "became really good friends with Arie and I knew that he was a great guy." He goes on to explain that "if you love somebody, you want them to be happy." Aww shucks, Jef, you've got a lot of sentimentality hidden in that wave of hair, don't you? He "didn't see Emily and Arie as a bad thing. You know, if they did work out." Wow, that's a lot of love you and Arie have between you--maybe the end of the season will show Emily being ditched for Arie and Jef to be united in holy brotrimony.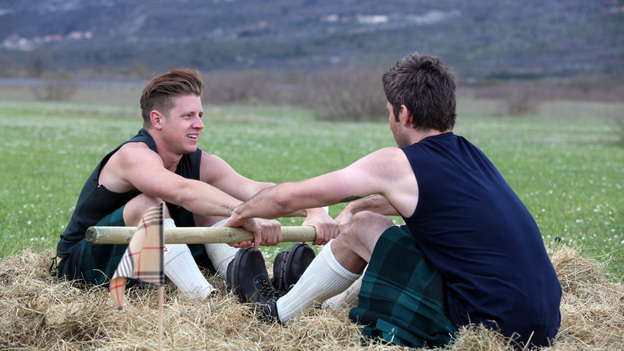 But maybe Jef isn't intimidated because of his connection with Emily. When speaking about their first kiss, he is clearly still excited by the not-so-distant memory (man he took his time when it came to kissing that girl!): "My first kiss with Emily was the most anticipated kiss and the best kiss of my life by far." A big claim, no doubt as the good-looking fellow probably didn't have a problem finding ladies to kiss in the past. So what made it so hyperbole-worthy? "The placement and the setting and the surroundings," Jef explained, but he wasn't done there; "the girl and our chemistry and everything was perfect. ... I'm really glad and I wouldn't have it any other way than to wait for it like we did ... our relationship just started to blossom from there." True love waits! Or something.
What do you think about the Arie/Jef bromance? Are you surprised to see Jef moving his way towards the head of the pack on The Bachelorette? Let us know in the comments!
Additional reporting done by Lindsay DiMattina
[Photo Credit: ABC]
Follow Alicia on Twitter @alicialutes
More:
'The Bachelorette' Recap: The Trophy Wife of Croatia
'Bachelorette' Contestant Arie Teases His 'Fiancee': Engaged to Emily?
'Bachelorette' Emily Maynard Tweets That Kalon Makes 'Me Want To Stab My Eyeballs Out'