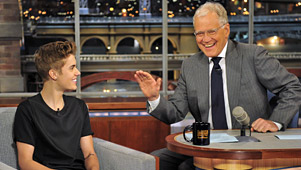 Looks there's one person in the world who isn't completely consumed by Bieber Fever: David Letterman. The late night host got into a bit of an awkward scuffle with Justin Bieber during his guest appearance on The Late Show With David Letterman Thursday night. Over what you may ask? Tattoos, of course.
It seems Letterman is none too happy with number of times the young pop star has chosen to ink himself and went on to give him a somewhat grandfather lecture about his most recent tattoo. "Explain this to me, is that a new tattoo?," Letterman asked, to which Bieber responded that yes it was, in honor of his latest album Believe. "Well, tell me that's the last one....honestly, how does that help how you look to have a tattoo?," Letterman remarked.
But when Bieber tried to explain his reasoning, a clearly agitated Letterman made a grab at the singer's marked arm. "Hey! Hey! Hey! Hey! Hey! This is brand new!" Bieber said, smiling as Letterman pulled away. "Grandpas." Gotta love those uncomfortable interviews! Although it was pretty hilarious that Bieber referred to the Sistine Chapel as the "Sixteenth Chapel." Kids these days...
Check out the video below and get an eyeful of awkwardness:
[Photo credit: CBS]
Follow Kelly on Twitter @KellyBean0415
Justin Bieber on The Late Show
More:
Alec Baldwin Drops His Pants on Letterman — VIDEO
Justin Bieber 'All Around the World' TV Special a Ratings Flop