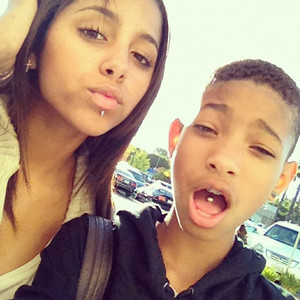 Eleven-year-old singer/actress/daughter of really famous people Willow Smith caused quite a social-media kerfuffle over the weekend when she posted a photo (left) on Instagram sporting what appears to be a tongue ring.
Not long after, however, her female friend (also pictured at left) posted her own Instagram photo of the girls' piercings with hashtags like #fake, #dontjudge and #justhavingfun — seemingly suggesting that their studs are of the magnetic variety. So ... who knows what to believe?!
If the piercing is real, you'd have to think that Will and Jada would give Willow a little talking-to, if not a full-on grounding ("Go to your wing!" "No publicity for a week!"). Or would they? As E! Online points out, Will did an interview with Parade magazine just last month and implied that he and Jada are somewhat lenient parents.
"When you have a little girl, it's like how can you teach her that you're in control of her body?" Will said. "If I teach her that I'm in charge of whether or not she can touch her hair, she's going to replace me with some other man when she goes out in the world. ... She has got to have command of her body. So when she goes out into the world, she's going out with a command that is hers. She is used to making those decisions herself."
[Image: Instagram]
More:
Photo: Willow Smith Shaves Her Head
Willow Smith Goes on Around-the-World Tour in New Music Video