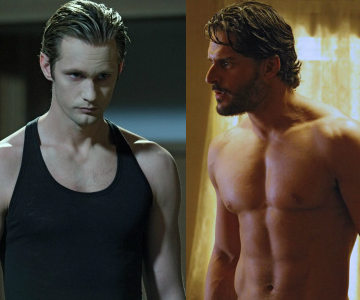 It's looking like the casting call for the much-awaited big screen adaptation of Fifty Shades of Grey could be a True Blood reunion.  
Extra caught up with Magic Mike star Joe Manganiello at the LA premiere and asked how he felt about playing the lead role of Christian Grey. 
"Sure, of course I'd be up for it!" said the actor, who also plays Alcide the werewolf on
True Blood
. "Why not?"
And his True Blood co-star, Alexander Skarsgard, was one of the first actors to raise his hand and say he'd happily take on the kinky role (after all, he's got plenty of experience with bondage and rough sex as cocky vamp Eric Northman).
"Where do I sign?" he said in May. "He's got a sex chamber? My character [Eric Northman] has that on 'True Blood.' He's got his little dungeon. I was born to play that part."
Alright, let's settle this with an ab-off.