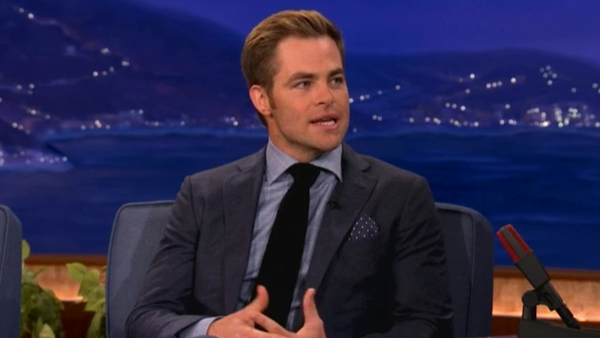 Let's just get one thing, ahem, straight. If I was at New York's Gay Pride March on Sunday (which I was) and I saw Chris Pine — the pec-tacular actor who plays Captain Kirk in the new Star Trek movie and a creepy brother who seems to be flirting with his sister in this weekend's People Like Us — I would completely lose my gay mind. However, I did not see Chris Pine on Sunday (though I did see many equally chesty gentlemen with their shirts off but none who are like, you know, famous) but one naked gay person did and he kind of made Chris Pine's day.
On yesterday's episode of Conan, Pine, who all the boys who like boys pine for, tells the tale of ending up at the parade by accident wearing a tank top (mmhhmm... by "accident") and a large naked gentleman wearing only a sock on his U.S.S. Enterprise chased Pine down the street screaming, "Captain Kirk! Captain Kirk!" He probably thought Pine was one of us. Can you really blame him? Being at a Gay Pride March wearing a tank top is about as heterosexual as Lance Bass' last People magazine cover.
Pine, who is straight (as far as we know) seemed to laugh at the whole incident. At least he'll have a big gay story to share with Zachary Quinto when they start promoting Star Trek 2: The Attack of the Hairy Naked Bear.
Check out the video below.
Follow Brian Moylan on Twitter @BrianJMoylan
More:
Chris Pine Lawsuit Reveals 'Star Trek,' 'This Means War' Earnings
'People Like Us' Trailer: Chris Pine is Elizabeth Banks' Secret Brother
MGM Wants Chris Pine For 'Robocop' Reboot