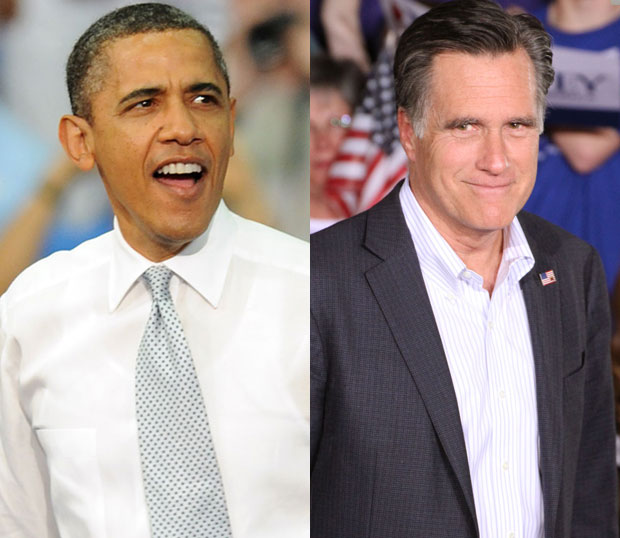 Since, at their core, Hollywood and Washington D.C. have so much in common, it's none too surprising when the two worlds collide. But even before those over-the-top, dramatic attack ads for the bid for the Presidency has begun, some of the most powerful, outspoken names in Hollywood are staking their claims regarding their candidate of choice. 
Last month
President Barack Obama
— whose 2008 campaign had major celebrity backing from the likes of
Oprah Winfrey, George Clooney,
and
Jennifer Aniston
— had both a breakfast with some of Hollywood's hottest young stars (including
Jeremy Renner
,
Zachary Quinto
, and
Kal Penn
, who worked for the Obama administration) and attended a fundraiser held at
Sarah Jessica Parker
and
Matthew Broderick
's Manhattan home, which included supporters like
Meryl Streep
,
Andy Cohen
, and
Anna Wintour
. Parker, who made a PSA for the POTUS, praised the President and
First Lady Michelle Obama
at the fundraiser, stating that Mrs. Obama has done "amazingly important things these last four years."
Since then, there's been even more talk about the upcoming Presidential race from some of Hollywood's heavy-hitters. In
Vulture
's in-depth interview with
Spike Lee
, the director reveals that while he and his wife are still Obama supporters, the race will be a tight one. Lee, who also talks about a cordial meeting he had with Obama's Republican opponent
Mitt Romney
at an airport, says, " I think it is going to be very, very, very close." 
Hollywood powerhouse producer
Harvey Weinstein
, on the other hand, sees no real competition. During an appearance on
The Rachel Maddow Show
, the Oscar dreamweaver compared Obama and Romney to two of his recent films:
The King's Speech
and
Our Idiot Brother
, respectively. Since both films had the same budget, Weinstein argues, only one walked away the clear champ as a box office hit and an Academy Award winner. "To me, Romney is
Our Idiot Brother
, and Obama is
The King's Speech
. You can spend all the money in the world. If you've got a bad product, it doesnt matter," he says. Never mind that comparing such polar opposite movies seems like kind of unfair to begin with, but on behalf of Obama-supporting fans who didn't really enjoy
The King's Speech
and actually enjoyed
Our Idiot Brother
more: "Aw, man, come on!"
While Obama certainly has more high-profile celebrity supporters, Romney has earned the support of some in the industry, including the likes of 
Kid Rock
,
Donald Trump
, and to the surprise of absolutely no one, anywhere, ever: 
Ted Nugent
. But, two of Romney's supporters have ties to a pair of the biggest A-listers in Hollywood:
Angelina Jolie
and
Brad Pitt
. Both Jolie's father
Jon Voight
and — in
a widely publicized letter
— Pitt's mother
Jane Pitt
, have expressed anti-Obama/pro-Romney sentiments. The mother of the
Moneyball
star (Brad is a well-known Obama and same-sex marriage supporter) wrote that the POTUS is "a man who sat in Jeremiah Wright's church for years, did not hold a public ceremony to mark the National Day of Prayer, and is a liberal who supports the killing of unborn babies and same-sex marriage." Uh-oh, she broke the first rule of family get-together fight club: don't talk about politics and religion!
Remember, folks, we've still got nearly four more months of opinions from both sides to endure. 
[Photo credit: WENN.com] 
More: