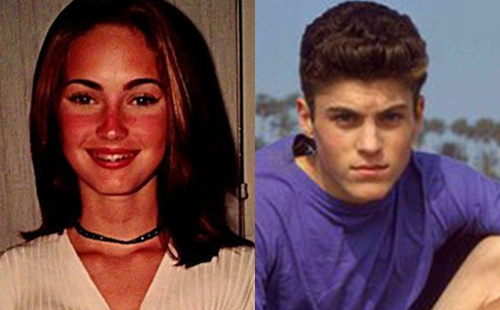 Megan Fox
 is already the queen of the self-effacing, totally cuckoo interview. And recently, she started putting her money where her mouth is, sharing three photos from her youth on Facebook, writing, "I encourage you to admire my citrus/copper-colored highlights (thanks Sun-in!), my braces and my ever present sunburn. And yeah, I'm brushing my eyebrows with a toothbrush in that one picture."
"I was not 'the s**t' in high school," she told People. "I was not an outcast but I didn't have a ton of friends. I got picked on, and I ate lunch in the bathroom because I was afraid of being picked on in the cafeteria." 
See, it seems the pregnant actress had more than a lot in common with now-husband 
and dork icon Brian Austin Green
, who was the awesome geek on
90210
in his teen years (until he became the white rapper known as Brian Green). 
We know, we know, there's a 13-year age difference, but what do you think: would the adorable self-admitted dorks have dated in high school?