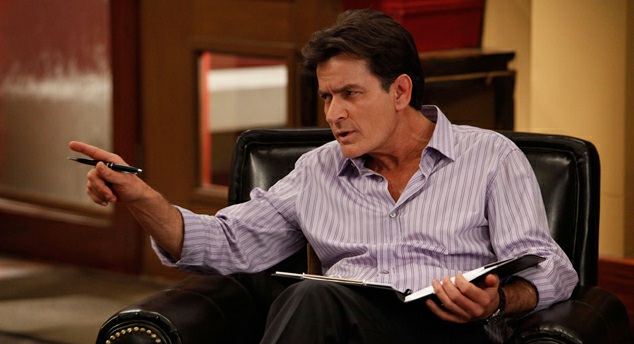 Charlie Sheen has big plans to give back to our men and women in uniform: the Anger Management star has planning on donating one percent (at least a million dollars) from the profits he makes from the show to the USO (United Service Organization). [insert hokey and played-out 'winning!' joke here.] It will be the largest donation the organization has ever received from a single person.
Sheen released a statement about his donation, explaining, "It's an honor for me to be able to give back to these men and women of the military who have done so much for all of us ... they put their lives on the line for us every day, and I'm just happy that my work on Anger Management can bring a little bit of relief to the troops and their families." Look at Uncle Charlie here, trying to bring a little bit of good into the world. We're impressed!
For those that are unaware of what the USO does, here's a quick overview for you: founded in 1941, the USO is a private, non-profit organization which provides programs, services and entertainment to United States troops and their families.
The thing that makes his donation extra-noteworthy, is that the million dollars is the minimum he will give--and he doesn't have a cap in mind at all: the more money he makes from his show, the more money goes to the USO. It's as simple and unselfish as that. We never thought we'd say this, but well done, Charlie: now there's a charitable incentive to tune into FX on Thursday nights, huh?
[TMZ]
[Image Credit: FX]
Follow Alicia on Twitter @alicialutes
More:
Charlie Sheen's 'Anger Management' Premiere Sets Ratings Record