Lady Gaga may be a lot of things, but one thing she isn't is shy. The iconic singer recently tweeted the link to her new (and rather provocative) Fame fragrance ad, which showcases a completely naked Gaga covered in an array of strategically placed little men. Literal little monsters.
"i won't lie I'm a bit nervous.," the 26-year-old star tweeted while providing the ad link. "its been a while since i've shared some work with you. But i'm so proud of Steven [Klein, the photographer] +I, we really did not sleep!"
So in honor of Ms. Gaga's latest perfume campaign, here's our breakdown of the forthcoming smell as well as our other celebrity fragrance profiles. Read our analysis below and find out what your favorite celebrity perfume says about you: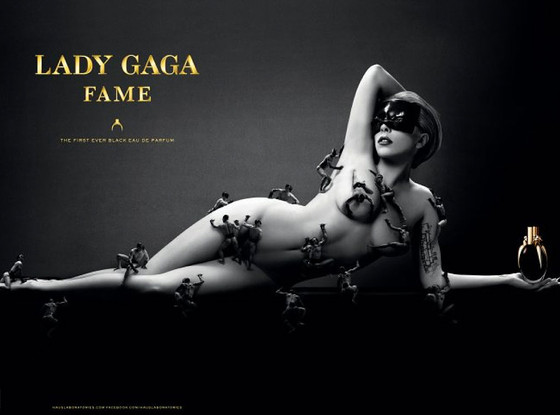 Fragrance Name/Celeb: Fame by Lady Gaga
What The Name Sounds Like: A popular Broadway musical 
What We Think the Perfume Smells Like: Excellence (hey, that could be a smell).
What It Actually Smells Like: Gaga herself has revealed that it contains traces of blood and semen, though assures fans it doesn't smell like it. Comforting, right?
Perfect Consumer: You're insanely creative and have an acute eye for knowing how to make yourself stand out (meat dress, anyone?). You're eccentric, unpredictable, and you love to be the center of attention. You're most likely an only child. No one calls you by your real name.
Follow Kelly on Twitter @KellyBean0415
[Photo credit: Twitter, Steven Klein]
More:
Rihanna's Risqué Photo Shoot for Her New Perfume, Nude — PICS