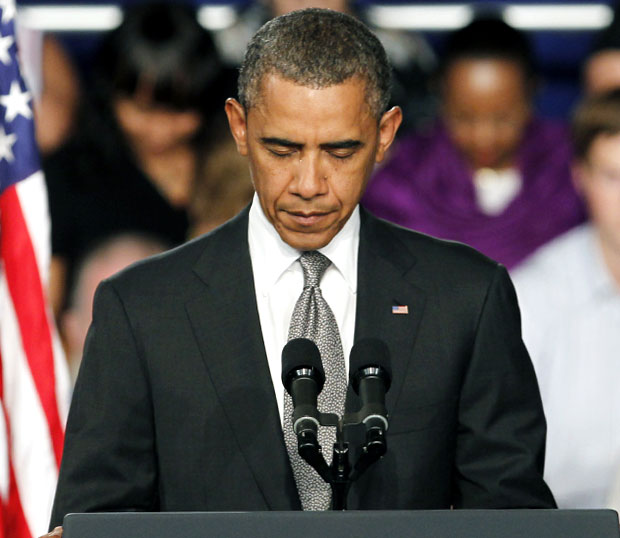 In wake of the horrible tragedy that unfolded in Aurora, Colorado on Friday morning, President Barack Obama spoke about the mass shooting that took place. The President was in Fort Myers, Florida, where he was originally scheduled to hold a campaign event, but instead discussed the tragedy. "There are going to be other days for politics," Obama said, "This, I think, is a day for prayer and reflection." (According to Reuters, First Lady Michelle Obama and Vice President Joe Biden also canceled their campaign events for the day. Additionally, President Barack Obama's campaign has asked Colorado television affiliates to pull its negative advertising in the state.) 
The President, who also held a moment of silence at the gathering told the crowd, "I was looking forward to having a fun conversation with you about some really important matters we face as a country... the differences between myself and my opponent in this election. But this morning we woke up to news of a tragedy that reminds us of all the ways we are united as one American family."
"We're going to stand by our neighbors in Colorado during this extraordinarily difficult time," he told his supporters, "Such violence, such evil is senseless; it's beyond reason." He continued, "We do know what makes life worth living. People in Aurora loved and were loved. If there's anything to take away from this tragedy, it's the reminder that life is very fragile here, time here is limited and it is precious. What matters at the end of the day is not the small things; it is not the trivial things ... Ultimately it is how we choose to treat one another and how we love one another."
Obama then touched on how the horrible turn of events in Aurora impacted him and his family. "My daughters go to the movies. What if Malia and Sasha had been in the theater as so many of our kids do every day? Michelle and I will be fortunate enough to hug our girls a little tighter tonight. For those parents not so lucky, we have to embrace them and let them know we'll be there for them as a nation." 
As of press time, the shooting rampage in the Auroro movie theater at the midnight showing of The Dark Knight Rises has claimed the lives of 12 and injured 38. 
[Photo credit: Alan Diaz/AP Photo]