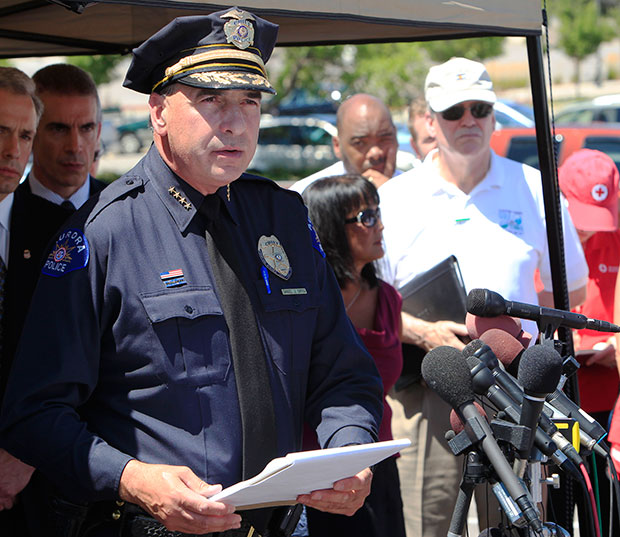 UPDATE: Aurora, Colo. authorities have updated the number of those shot to 70. Police Chief Dan Oates also announced details surrounding the suspect's booby-trapped apartment. Read more here. 
EARLIER
: Just hours after a lone gunman opened fire at an Aurora, Colo., screening of
The Dark Knight Rises
, the local police department held a press conferences to update a concerned public about the tragedy. According to the Dan Oates, Aurora Police Department Chief, the tragic shooting left 71 shot, 12 dead, and 59 wounded.
Oates confirmed the identity of the suspect, 24-year-old James Holmes, a former graduate student at the University of Colorado Medical School who had no criminal record outside one traffic summons.  
But perhaps more chilling than the idea of a med student with a spotless record allegedly unleashing a shooting spree in the theaters was Oates' account of the tragedy itself. "This event began at 39 minutes after midnight," he told reporters. "You can describe it as hundreds of calls coming in." Police responded to the scene within a minute to a minute-and-a-half and apprehended Holmes outside the theater. Oates says the alleged shooter was found "with three weapons in his car."
According to officials, Holmes entered the theater and allegedly "set off two devices to distract that crowd" that released irritants or smoke. Oates described the shooter as being dressed in all black, wearing a ballistic helmet, ballistic vest, ballistic leggings, throat and groin protectors, black tactical gloves, and a gas mask. There were nearly 200 witnesses to the shooting.
Police, have not considered motive behind the incident, but, "at this time, we are confident he acted alone," according to Oates. In total, approximately 200 officers reported to the scene. Oates confirmed that out of the 12 people who died, two passed away at local hospitals and 10 were dead at the scene. The alleged shooter's home is also under investigation at this time. "His apartment is booby trapped," Oates told reporters. Colorado Governor John Hickenlooper encouraged citizens to stay strong while watching the horror unfold on their TV screens. "There are no words that can express the intensity of this tragedy," he said. "This is the act of a very deranged mind. This is a safe city, safe state, and safe country. [Pain] — we can't let it keep us from our lives. Colorado is a state that has always come together. We will come back stronger than ever from this although it will be a very hard process." Mayor Steve Hogan also spoke at the conference and encouraged parents to maintain a dialogue with their children to ease them through the tragedy. "Clearly this is a tragic day," he said. "It is an absolute horror for all the people who were in the theater. We will always wish... that we had done more. We need to thank everybody who responded as quickly as they did. We've taken a blow today, but we will get back on our feet and we will move ahead. If I can say anything to our citizens, it's talk to them [the kids]. We have to do our duty as parents... talk to our kids, let them know this is an isolated incident. We've got to talk about it. You can't have that many people die and that many more be injured, and not see it as tough." [Photo Credit: David Zalubowski/AP Photo] More: