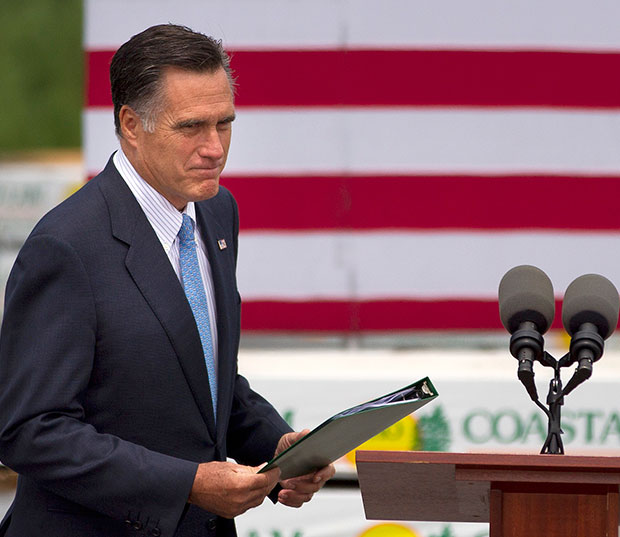 Presidential candidate Mitt Romney spoke out about the tragic shooting at a movie theater in Aurora, Colo. that took place early this morning at a press conference in Bow, N.H. Romney expressed an outpouring of support and compassion for the victims and their families, and encouraged all Americans to come together in this time of grief and confusion. "This is a time for each of us to look into our hearts and remember how much we love; one another and how much we love and how much we care for our great country. There's so much love and goodness in the heart of America," he said. 
"Today we feel not only a sense of grief but perhaps also of helplessness. But there is something we can do," Romney said. "We can offer comfort to someone near us who is suffering or heavy laden and we can mourn with those who mourn in Colorado. This morning Colorado lost youthful voices which would have brightened their homes, enriched their schools, and brought joy to their families. Our prayer is that the comforter might bring the peace to their souls that surpasses our understanding."
Romney reminded his supporters that we have the power to overcome evil by banding together in our love for one another. "What we do know is how evil is overcome. We are seeing that greater power today in the goodness and compassion of a wounded community," he said. "Grieving and worried families in Aurora are surrounded with love today, and not only by those who are with them and holding them in their arms."
To close, Romney called upon his faith as a source of strength and solace in these troubling times,  "[Families in Aurora] can also know that they are being lifted up in prayer by people in every part of our great nation. Now and in the hard days to come, may every one of them feel the sympathy of our whole nation and the comfort of a living God."
Video of the press conference is below. 
[Photo Credit: Evan Vucci/AP Photo]
More:
President Obama Says Aurora Shooting "Beyond Reason"
Gunman Kills At Least 12 at 'Dark Knight Rises' Midnight Screening: UPDATE
'Dark Knight Rises' Shootings: NYPD to Secure All Movie Theaters