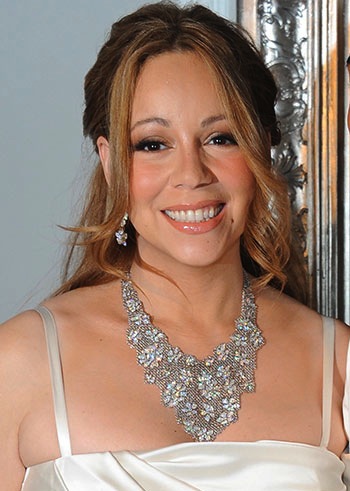 With the announcement of her place on American Idol's judging panel and the release of her new single, "Triumphant," Mariah Carey is well on her way to her, like, 46th comeback. "Triumphant" is no "Always Be My Baby" (but to be fair, nothing really is), but it's got a catchy-enough beat and Carey sounds good, signature falsetto screech and all. Plus, she's featuring not one, but two rappers. Rick Ross and Meek Mill totally keep her current. With "Triumphant," Carey seems to be saying, "I'm not like a regular mom, I'm a cool mom."
"Triumphant" also features lyrics that are particularly resonant for a woman in the midst of yet another career rebirth. "Can't fall down now, so even when clouds surround you/ And everyone seems to doubt you/ Baby still know who you are/ So you gotta keep on climbing/ In spite of the chains that bind you/ You can see the mountain top/ It's not too far," she sings. That's right, girl, keep on truckin' straight to the top. The haters are gonna hate, but you can rise above it.
Since there's nothing like a little Mariah to round out your Friday and kick off the weekend, take a listen to "Triumphant" below and then keep scrolling for some of our all-time favorite Mariah ditties. "Honey," "Shake it Off," "All I Want for Christmas is You" — dang, does homegirl know how to turn out a toe-tapping tune.
"Triumphant"
"Always Be My Baby"
"Honey"
"Shake it Off"
"All I Want for Christmas is You" — It may not be seasonal, but it really is the best.
Follow Abbey Stone on Twitter @abbeystone
[Photo Credit: WENN.com]
More:
Mariah Carey Joins 'American Idol'