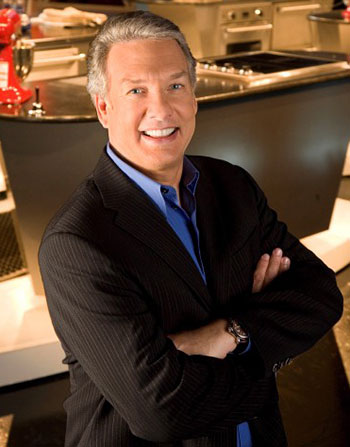 Marc Summers, host of Food Network's Restaurant: Impossible (and, some of you may remember, Nickelodeon's Double Dare in the '90s) is doing well after being hospitalized for injuries endured in a car accident on Aug. 10, People.com reports. Summers suffered several broken bones in his face, but is now on the road to recovery.
Summers, 60, tells People.com that he was riding in a cab in Philadelphia in a "torrential downpour" when "the cab lost control, hydroplaned."
He continues, "Everything on the left side [of my face] from my eye socket down was just wiped out. My eye socket got all swollen. I'm having trouble seeing completely out of the left eye … There's a lot of titanium and screws in my face… I was pretty lucky that I didn't have brain damage."
"I knew when [the driver] lost control that I was in trouble," Summers said of the accident. "I was on the phone with my supervising producer and I said, 'Oh my God, we're going to crash!' Next thing I knew, I woke up and had blood all over me."
Now, Summers is on the mend and optimistic about his surgery's outcome. "Everything went back into place," he said. "In a few weeks, the swelling will go down and no one will ever know... I'll be a new guy."
Following the accident, Summers' longtime friend Ryan Seacrest tweeted his support, to which Summers replied, "Thanks for all the kind words. Hanging in there. Much appreciation to Mr Seacrest. He has been a lifelong friend and a class act."
Just heard from my friend Marc Summers he was in a serious accident- cab he was in hydroplaned. Docs say he'll be ok. Wish him well @ibatvmc
— Ryan Seacrest (@RyanSeacrest) August 16, 2012