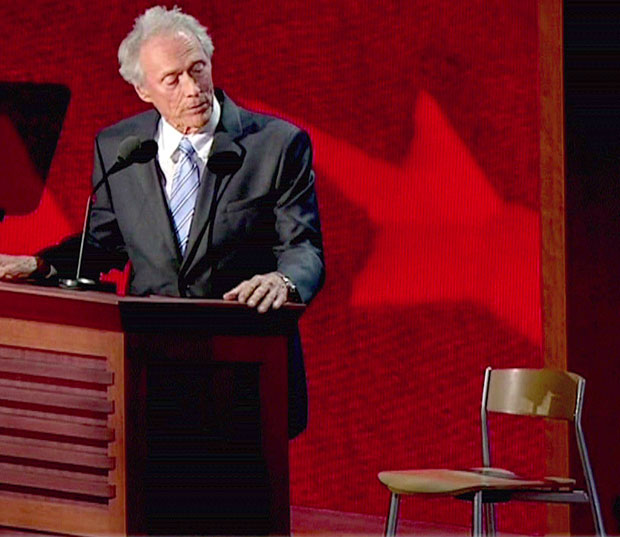 Say what you will about Clint Eastwood's Republican National Convention chair debacle, but the fact that you're saying anything about it does prove something: the man knows how to put on a show. Even when he hasn't had much time to rehearse. The time honored actor/director spoke to The Carmel Pine Cone, a local paper in the Monterey Peninsula of Calif., about the hot topic of the RNC speech he delivered on Thursday, Aug. 30. As Clint tells the publication, "They vet most of the people," referring to the Convention's process of determining what a speaker will say before he or she heads on stage. "But I told them, 'You can't do that with me, because I don't know what I'm going to say.'"
Apparently, Eastwood's entire bit, wherein he addressed an invisible Barack Obama in an empty chair placed onstage next to him, was made up right before he went out to speak. "I got to the convention site just 15 or 20 minutes before I was scheduled to go on," Eastwood states. "When I saw the stool sitting there, it gave me the idea. I'll just put the stool out there and I'll talk to Mr. Obama and ask him why he didn't keep all of the promises he made to everybody."
Despite the backlash Eastwood has received, he seems to be satisfied with his speech. "I had three points I wanted to make," he says. "That not everybody in Hollywood is on the left, that Obama has broken a lot of the promises he made when he took office, and that the people should feel free to get rid of any politician who's not doing a good job. But I didn't make up my mind exactly what I was going to say until I said it."
In reference to the crowd at the RNC, Eastwood adds, "They really seemed to be enjoying themselves." 
[Photo Credit: WENN]
More:
DNC 2012: Biden & Obama Join The Ranks of the Best Pop Culture BFFs
Joe Biden Is LITERALLY Chris Traeger (And He's After Leslie Knope)
Bill Clinton: The Master of Improv
From Our Partners:

Brad Pitt and Angelina Jolie's Wedding: No Plans Yet, Says the Actor
(Celebuzz)

(Celebuzz)