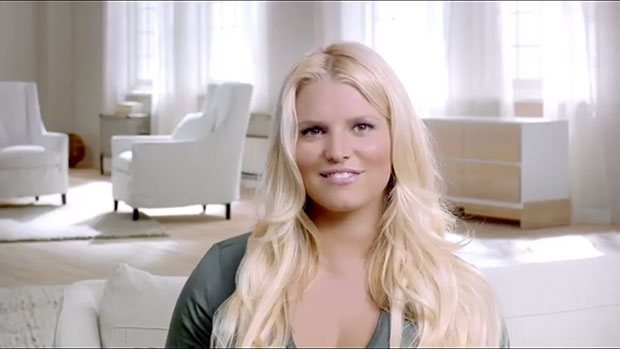 Jessica Simpson knows a thing or two about what it takes to get her pre-baby body back. As the most recent spokeslady for Weight Watchers (joining the ranks of Mariah Carey and Jennifer Hudson), Simpson opens up about about her struggles in a new ad. But what is surprising about this new commercial is that it doesn't show any full-length shots of Simpson's body. Instead, it focuses strictly on Simpson's beautiful face.
"There is a lot of pressure to lose weight, but I'm not a supermodel," Simpson states in the video. "I'm just Jessica, trying to eat real food in the real world, and I really just want to be healthy for my daughter."
Simpson — who weighed in at 170 pounds when she shot her naked, pregnant Elle cover in April — told Katie Couric (on Katie, according to CBS News) Monday that she is attempting to do 14,000 steps a day and is trying to stay focused on a diet. "It's working, and it feels amazing," Simpson says in her ad. "Really I just want to be a better version of myself."
Simpson has faced much scrutiny over the years about her fluctuating weight, and the fact that she doesn't show her full, post-baby body in this video probably won't help her any. Check out the video below, and tell us what you think. Should the commercial have shown Simpson's full body?
Follow Lindsey on Twitter @LDiMat.
More:
John Mayer Likes Girls in Bikinis — Well Played, Katy Perry
Megan Fox, Jessica Simpson, and More: Baby Bumps That Do the PR
Blake Lively Named the Face of Gucci's New Perfume: 25 Other Celebrity Fragrances