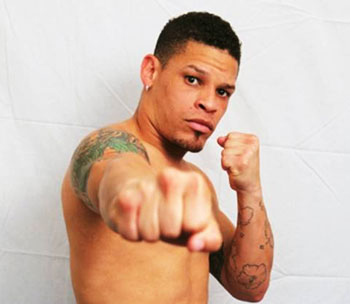 Featherweight boxer Orlando Cruz, 31, fought for Puerto Rico in the 2000 Olympics and is ranked the fourth-best featherweight fighter in the world, but in a statement he released on Wednesday evening, Cruz announced that he is most proud of his identity as a gay man. This makes Cruz the first male boxer to speak openly about being gay while he is still active in the sport.
Cruz said in his statement, "I've been fighting for more than 24 years and as I continue my ascendant career, I want to be true to myself. I want to try to be the best role model I can be for kids who might look into boxing as a sport and a professional career. I have and will always be a proud Puerto Rican. I have always been and always will be a proud gay man."
In response to Cruz's announcement, GLAAD tells Hollywood.com exclusively, "Orlando Cruz has become a role model for LGBT Puerto Ricans, athletes, and individuals from all walks of life, by sending the message that you can be true to who you are and stay at the top of your game."
Jim Buzinski, co-founder of gay sports web site OutSports.com, tells Hollywood.com, "This is kind of fantastic. For someone to come out in a sport like boxing, that is so macho and violent … I think is pretty amazing and will turn a lot of heads." He continues, "It's not some guy who's washed up who's just doing this to get publicity, he's a legitimate fighter who still has some good years left."
According to Buzinski, Cruz's announcement will likely draw attention back to a sport whose viewership has been floundering in recent years. "I think it'll draw more attention to the sport. Boxing has been losing its market share, so to speak, to Ultimate Fighting and Mixed Martial Arts, especially among younger people," he says. "Here you have someone coming out and his next fight is October 19, and so that'll drum up interest. So, in a sense, I think it's helpful for the sport. And I think the interesting thing is going to be what the reaction is within fellow boxers and then the boxing hierarchy."
Buzinski's question of how Cruz's contemporaries will react is an interesting one, especially considering the sport's history of homophobia. In 1962, six-time welterweight world champion Emile Griffith, who didn't come out until 2008, killed Benny "Kid" Paret in the 12th round of the of welterweight title fight. Griffith's excessive aggression was reportedly caused by homophobic remarks Paret swung at him before and during the match. In author Ron Ross' 2008 book, Nine Ten and Out! The Two Worlds of Emile Griffith, Griffith says, "I keep thinking how strange it is … I kill a man and most people understand and forgive me. However, I love a man, and to so many people this is an unforgivable sin; this makes me an evil person. So, even though I never went to jail, I have been in prison almost all my life."
But times have changed since the 1960s, as Cruz's announcement that he is a "proud gay man" exhibits. Buziniski, for one, thinks that Cruz's words will inspire fans, if not other athletes, to be more open. "Coming out is such an individual experience that I doubt that one person coming out will all of a sudden cause more people to come out, but it'll certainly get them to think," he says. "[Cruz] actually could inspire people who maybe aren't even athletes to feel that you know, 'This guy can come forward and did this, maybe it gives me some hope that I can do the same thing."
Additional Reporting by Lindsey DiMattina
Follow Abbey Stone on Twitter @abbeystone
[Photo Credit: EMC Events]
More:
Jennifer Livingston, CBS' WKBT News Anchor, Puts Bullies in Their Place
Chris Brown and Rihanna Are Hooking Up: Why This Cannot Happen
Former 'Saved By The Bell' Star Gives Troubling Interview
From Our Partners:

Jessica Simpson's Parents Joe and Tina List Their 4.3 Million Encino Mansion: Take a Peek Inside — PHOTOS
(Celebuzz)

(Celebuzz)