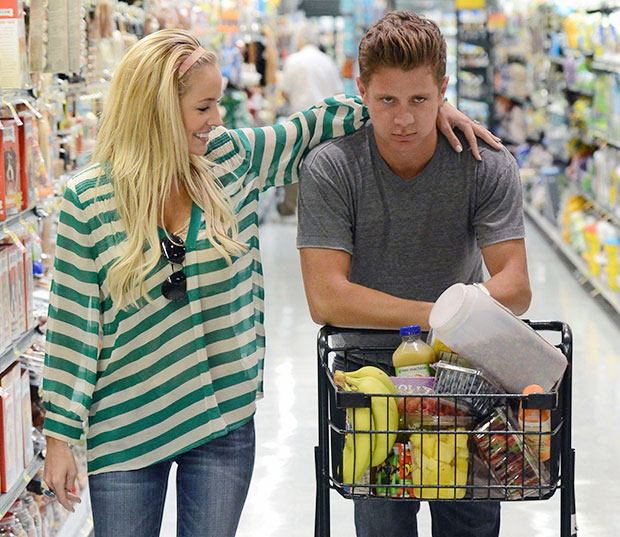 Another one bites the dust. Just 12 days after Bachelor star Ben Flajnik and his fiancee Courtney Robertson called it quits, another Bachelor(ette) couple has called off their engagement. Bachelorette Emily Maynard and her fiance Jef Holm are no longer an item. "I am sorry to tell you that Jef and I have, indeed, parted ways," she tells People. "It was a very difficult and heartbreaking decision."
Despite Holm's dreamy proposal at the end of The Bachelorette Season 8 that aired in July, it just wasn't meant to be for this couple. "As you know, at first I wasn't sure that I should even be The Bachelorette, but I am a hopeless romantic and I do believe in the show," Maynard says. "I have no regrets because I did find love and shared an incredible journey with a really special person — and you know what, we tried our best because the love between us was so real."
"I have nothing but respect and love for Jef and his family, but ultimately we are just at different points in our lives," Maynard continues. "I've learned so much and I'm grateful for all of the support I've received. I'm excited and hopeful for the next chapter in my life with my daughter, Ricki. I do hope that you will respect our privacy and allow us the time we need to heal."
So how does Holm feel about the breakup? "Meeting Emily on The Bachelorette was an incredible experience, we've had quite the journey," he says." I've never loved someone so much in my whole life, Emily is the best person and mom I have ever met. She opened up her world to me and I fell in love with her, [her daughter] Ricki, her family and the Hendricks."
Holm also believes that The Bachelorette truly did help him find love. "She has a great group of people who surround her," he says. "What we shared was completely genuine and real and it breaks my heart but we have decided to break up."
"Emily will always have a special place in my heart," Holm adds. "I don't regret a single second I spent with her or Ricki. They both have been a huge part of my life. Who knows what tomorrow will bring but we are moving on to the next chapter of our lives. Emily and I are great friends and I hope we can continue to be friends forever. Everyone wants a salacious story to break, but the truth is we are just two people who fell in love and tried our hardest to make it work. I will always love her."
For weeks now, rumors have been circling that this breakup was bound to happen, and that Maynard had allegedly cheated on Holm. While neither Maynard nor Holm have confirmed the cheating rumors, their official statements do add their relationship to the long list of failed Bachelor/Bachelorette romances. Out of 24 seasons of The Bachelor franchise, only two couples have made it down the aisle: Trista Rehn and Ryan Sutter and Jason Mesnick and Molly Malaney (she was actually his runner-up — he initially left the show engaged to Melissa Rycroft, but dumped her during a special to get back together with Malaney). Plus, this isn't Maynard's first failed Bachelor engagement either. She was briefly engaged to Brad Womack at the end of Bachelor Season 15 before that relationship ended and she got her own show.
So which couples do we have left? Bachelorette Ashley Hebert is still with her fiance J.P. Rosenbaum — but given the franchise's record, will they actually ever make it down the aisle, or is history doomed to repeat itself?
Follow Lindsey on Twitter @LDiMat.
[Photo Credit: INFPhoto]
More:
'Bachelor' Ben Flajnik and Courtney Robertson Split: What Happens to the Engagement Ring?
Emily Maynard Cheated on Jef Holm? Or Not? Why Do We Care?
'Bachelorette' Finale Recap: Emily Maynard + Jef Holm = ?
From Our Partners:

Kristen Stewart and Robert Pattinson Cuddle at Chateau Marmont: 15 of the 'Twilight' Couple's Most Romantic Date Nights — GALLERY
(Celebuzz)

Reese Witherspoon Debuts Post-Baby Figure Two Weeks After Giving Birth — PHOTOS
(Celebuzz)