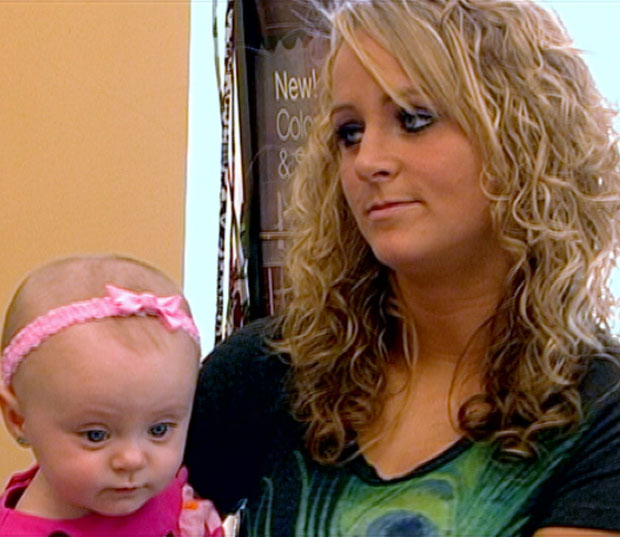 It's time for Teen Mom 2 star Leah Messer to set up another nursery because she is pregnant again. Messer, 20, and her new husband Jeremy Calvert, 23, are expecting their first child together. "Jeremy and I are excited to be adding a new addition to our family," Messer tells Us magazine. "Being a teen mom was difficult, but I'm older and in a different place now — married to Jeremy and excited for our family to grow."
This will be Messer's third child; she already has two-year-old twin daughters Aliannah and Aleeah from her first marriage to Corey Simms. Now, it's time for her and Calvert, whom she married in April, to start their own family. 
Earlier this year, the couple reportedly suffered a miscarriage — but Messer doesn't seem to be letting the past hold her back from being excited about this pregnancy. She took to Twitter Tuesday to share a positive message:
THANKS SOOO MUCH EVERYONE! #PositiveTweets makes this momma soooo happy!!! @calvert505 are in such a good place! ??? Love all of you! ????
— Leah D. Calvert (@TM2LeahDawn) October 24, 2012
Follow Lindsey on Twitter @LDiMat.
[Photo Credit: MTV]
More:
Mock the Vote: Things We Learned From the Debates
Honey Boo Boo's Celebrity Tour Tuckers Her Out: Are We Responsible?
Can Only a Skinny Minnie (Mouse) Wear Lanvin?
From Our Partners:

Jessica Biel Shows Off Wedding Ring After Marrying Justin Timberlake in Italy — PHOTO
(Celebuzz)

Kristin Cavallari Doesn't Want to Plan a Wedding Right Now, Says She's Focusing on Motherhood for Now — EXCLUSIVE VIDEO
(Celebuzz)