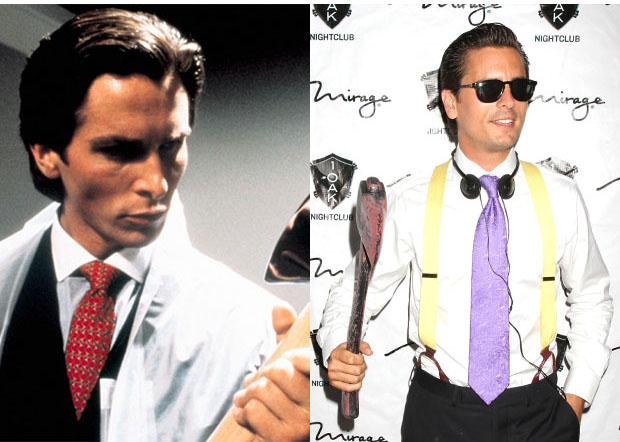 Any Kardashian-watcher worth their salt knows that Kourtney's boyfriend/baby-daddy Scott Disick looks an awful lot like American Psycho's Patrick Bateman, played brilliantly by Christian Bale in the 2000 movie. The coif, the suits, the ego — the only thing missing was the ax. Until now.
Finally, in a truly meta moment, Disick has finally embraced the resemblance himself. The 29-year-old Keeping Up with the Kardashians star hosted an American Psycho-themed Halloween party at 1Oak nightclub in Las Vegas on Oct. 28. And his costume? The woman-hating, materialistic, ax-wielding nutjob himself. 
In 2010, Kourtney, Kim and Khloe said they could see Bale, 38, playing Disick if Keeping Up With the Kardashians was ever made into a movie. "We see a definite resemblance there."
But now that reality and fantasy have merged, our brains are getting confused. The reality star and the character are morphing into one frightening Gaultier-wearing amalgam. Can you tell them apart anymore based on their quotes? (Answers below!)
1. "I'm young, handsome, successful, wealthy. You could say I'm a role model — I'm the American dream." 
2. "There are no girls with good personalities." 
3. "I really enjoy trying to look as great as I can all the time. It gives me a sense of confidence." 
4. "If I'm a murderer, wouldn't I be the wrong person to f**k with?" 
5. "A bold stripe shirt calls for solid colored or discreetly patterned suits and ties." 
6. "There's only so many days I can ejaculate in one day." 
7. "When you think of the debonair, ridiculously good looking guy, you think of me." 
[Photo Credit: DJDM/WENN; Lionsgate]
More:
Answers: Scott Disick: 1, 3, 4, 6, 7 Patrick Bateman: 2, 5
Follow Michelle on Twitter @HWMichelleLee
From Our Partners:

'Bring It On' Star Struck By Car and Killed
(Celebuzz)

(Moviefone)