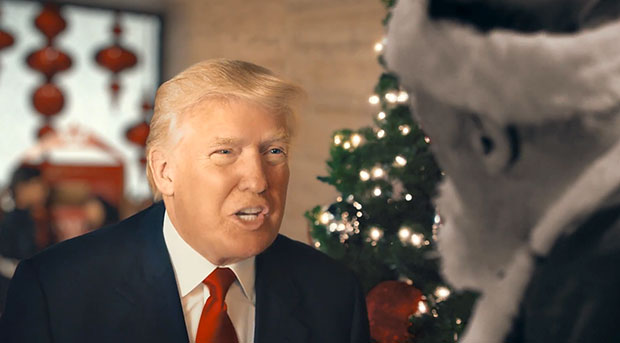 When Donald Trump tweeted in the midst of his inane election night Twitter rant/meltdown, "We can't let this happen. We should march on Washington and stop this travesty," it's safe to assume he didn't think people would feel the same way about him. It seems for every person still amused by Trump's outrageous, offensive antics, there are others ready to put a stop to it. Nearly 500,000 of them, in fact. 
A petition has been gaining traction on
SignOn.org
 urging the retailer Macy's and its CEO
Terry J. Lundgren
— which sells Trump products and uses
The Celebrity Apprentice
host as a spokesman (the store was also featured as a challenge in an episode last season) — to cut ties with the controversial figure. 
The petition called "Urge Macy's To Dump Donald Trump," which was started by Angelo Carusone, the Director of Online Strategy for Media Matters, argues that Trump has, among other grievances, "Long engaged in sexist behavior ... Use his public platform to deny the reality of climate change ... and perpetuated the racially charged birther conspiracy, repeatedly arguing that President Obama has been lying and was not born in the United States." Hollywood.com reached out to Macy's, who were not immediately available for comment. 
The petition also states that the 66-year-old (pictured above, presumably yelling at Santa about outsourcing work to elves) has "hypocritically complained about jobs being shipped overseas to China, despite the fact that almost his entire clothing line sold at Macy's is made in China and other Asian nations." (Carusone's petition isn't the only one to call Trump out on that matter; 
David Letterman
pointed it out to the business mogul during one of his recent appearances on
The Late Show
.
Watch it here.
) Carusone, who was also behind a boycott against
Glenn Beck
, explained to Hollywood.com what finally made him take action against Trump. "For me the final straw was a recent letter that I found from Macy's CEO Terry Lundgren to Donald Trump. In it, Mr. Lundgren concludes by saying 'Don't give up the Real Estate business yet but we are developing a meaningful fashion business with your brand!' I've been a longtime customer of Macy's and Bloomingdales. To me, Trump's brand is consequence free bullying. It just didn't seem to reflect the 'magic of Macy's.' So, I acted." Clearly Carusone isn't the only one who has had enough of Trump, who
angered many
when he extended his $5 million "offer" to President Obama in the wake of Sandy's devastation. "He has a lack of respect for our political system. He offends me and all veterans who have fought for our country," and, "I will not shop at Macy's until and unless it dumps Trump -— I do not want to support a racist bigot," are among some of the comments left on the SignOn.com petition. (The latter is perhaps the worst threat for Macy's as the holiday shopping season looms near.) 
While Trump hasn't responded to Carusone on Twitter (yet... right now he's too busy attempting to start an argument with Rachel Maddow about wind turbines) he has brought up Macy's on Twitter, in the way he knows best: shameless self-promotion. Trump wrote from his page on Tuesday, "My fragrance--"Success"-- is flying off the shelves @Macys. The perfect Christmas gift!"
More: