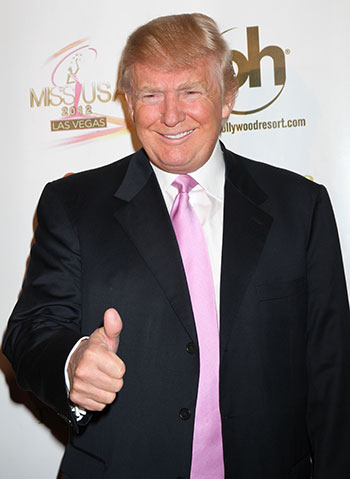 Despite getting over half a million online signatures and an onslaught of support (including from none other than Cher) urging Macy's to "dump" Donald Trump as a spokesperson for their company, the retailer has decided not to succumb to the call to arms for the retailer to fire him. Angelo Carusone, the Director of Online Strategy for Media Matters, started the SignOn.org petition to urge CEO Terry J. Lundgren to fire the controversial media mogul, who — in addition to being a spokesman (watch him in the latest commercial here) — has a line of products including ties and colognes sold at Macy's. 
The
petition
, named "Urge Macy's To Dump Donald Trump," uses a laundry list of the
Celebrity Apprentice
host's deplorable actions to call for his firing. These include, "sexist behavior ... Use his public platform to deny the reality of climate change ... Hypocritically complained about jobs being shipped overseas to China, despite the fact that almost his entire clothing line sold at Macy's is made in China and other Asian nations....and perpetuated the racially charged birther conspiracy, repeatedly arguing that
President Obama
has been lying and was not born in the United States."
But, no amount of mind-boggling
election night Twitter rants
or
post-Sandy insensitivity
or wild
conspiracy theories
have seemed to work against Trump, as Macy's is standing by their man, for now. The retailer said in a statement released to
US Weekly
regarding the petition: "Macy's marketing and merchandise offerings are not representative of any political position. Many of the individuals associated with products sold at Macy's -- or at any retailer, for that matter -- express personal opinions that are not related to the merchandise we sell or to the philosophies of our company."
In an email to Hollywood.com Carusone called Macy's response "problematic" and argued that it "erroneously assumes this is about their TV ad. It's not. The petition pre-dated the launch of their ad campaign." Carusone added, "Macy's doesn't merely sell Trump's clothes, they are in partnership with him to develop his fashion brand. That's what this is about. This is about whether Trump's brand of bullying and chicanery is consistent with the magic of Macy's."
A spokesperson for Trump told
Business Week
, "I question the legitimacy and accuracy of the website and the number of signatures claimed to have joined this petition... [Trump] values its long-standing relationship with Macy's and looks forward to many more years of continued success." While Trump hasn't responded to Carusone, he did have a very Trump-like response to Cher, a supporter of the petition, telling the legendary singer from his page, "@cher should spend more time focusing on her family and dying career!"
[Photo credit: DJDM/WENN]
More: