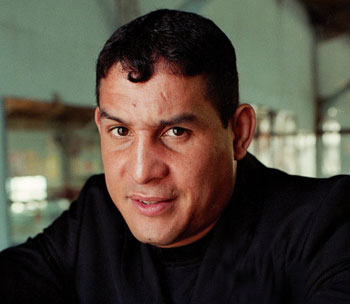 Boxing fans were dealt a harsh blow on Saturday when Hector "Macho" Camacho, the Puerto Rican fighter famous for his headline-making matches against the likes of Sugar Ray Leonard and Julio Cesar Chavez, passed away at in San Juan at 50 years old. Camacho, known for his big fighting prowess despite his small size, was shot in the jaw Tuesday while sitting in a car outside a Puerto Rican bar with 49-year-old Adrian Mojica Moreno, who was killed in the attack. (Authorities say nine small bags of cocaine were found in Moreno's pocket.)
Though the boxer was initially expected to survive the attack, Camacho's injuries worsened — the bullet, which slowed blood flow to his brain after it hit three major arteries in the boxer's neck, caused Camacho's heart to stop for a short period while he was hospitalized. Camacho's family decided to take the boxer off life support Saturday.
Though Camacho — who moved from Puerto Rico to New York's Harlem neighborhood as a child, eventually earning the nickname "the Harlem Heckler" — hadn't fought since 2010, a rep for the boxer told reporters he was considering a 2013 comeback. Camacho's life had been troubled in recent years — the boxer's wife not only filed multiple domestic abuse complaints against Camacho, but Camacho was also sentenced to seven years in prison for burglary in 2007. (A judge eventually suspended six years of the sentence to one year and placed Camacho on probation.) Camacho also struggled with drugs and alcohol throughout his career.
"The Macho Man was a promoter's dream," Don King told the Associated Press. "He excited boxing fans around the world with his inimitable style. He was a nice, amiable guy away from the ring."
[Image Credit: Getty Images]
More:
Larry Hagman: Celebs Tweet Tributes to Late 'Dallas' Star
Lil Wayne Talks Retirement: But Will He Back Out Like These Stars?
Interview: Jon Bon Jovi Talks Teen Daughter's Overdose 'Tragedy'

Jennifer Lawrence Bikinis in Hawaii (PICS)

Best and Worst of the Thanksgiving Parade