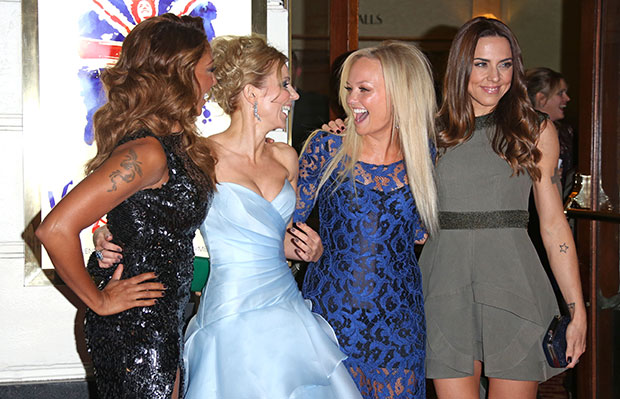 The Spice Girls musical Viva Forever! opened Tuesday night in London, with both critics and the 90s girl band alike in attendance. Geri "Ginger" Halliwell, Emma "Baby" Bunton, Mel "Sporty" C and Mel "Scary" B posed for photos with fans on the red carpet outside the theater, while Victoria "Posh" Beckham kept everyone waiting after getting stuck in traffic (of course she did).
Told from the point of view of aspiring singer Viva, Viva Forever! parodies TV talent competitions like X Factor while using the Spice Girls' biggest hits to explore the themes of motherhood and friendship. The book was penned by Absolutely Fabulous star Jennifer Saunders.
While hopes were high — Judy Craymer, the producer behind the megahit Abba musical Mamma Mia!, was in charge — turns out, lightning truly doesn't strike twice. The critics positively ripped into the show, and some reviews were so bad they're great. We've rounded up the best worst reviews of Viva Forever!
The Telegraph, Charles Spencer: "I'll tell you what I wanted, what I really, really wanted – I wanted this terrible show to stop. If you love the Spice Girls stay at home and listen to their greatest hits."
The Times, Libby Purves: "I'm not sure we really, really wanted this. It wouldn't matter if the songs were good. But most of them aren't. This ain't Abba, and of the 22 only about four are memorable."
The Independent, Paul Taylor: "[There are] marked deficiencies in Jennifer Saunders' charmless, messy, lacklustre book. Not only does her script rarely give you that necessary gleeful sense of expectancy about where the songs are going to be shoe-horned in, but it's embarrassingly derivative of Mamma Mia! and looks way past its sell-by date in its utterly surprise-free satiric swipe at X Factor."
The Guardian, Alexis Petridis: "But the real problem is the songs. For one thing, there aren't enough memorable hits in a career that lasted for three albums to support two hours of theatre. In fairness, the Spice Girls had a handful of decent songs – 'Stop' and 'Say You'll Be There' among them – but elsewhere they're forced to rely on pretty vaporous album tracks such as 'Right Back At Ya' and, at one panic-inducing moment, delve into the solo oeuvre of Geri Halliwell. For another, the lyrics are required to drive the action on, and the lyrics of Spice Girls songs are appalling."
Huffington Post UK, Caroline Frost: "Kind of makes you wonder why the producers didn't just hire a nightclub and make it a Viva Forever!-themed night, instead of all this hand-wringing nonsense about friendship never ending, and being true to yourself."
The Stage, Lisa Martland: "Ultimately there is just too much tackiness surrounding the core story for any of the events to be believable, the best example of which is when there is a quick diversion to Simone's house in Spain where a bizarre carnival street scene arrives from nowhere. It's as if someone from the props department found a box of paraphenalia in the theatre basement and thought it would make a great scene."
The Times, Caitlin Moran: "Scrappy, lazy, clichéd and inconclusive. Even the end makes no sense, suggesting no jeopardy, choice or sacrifice."
Follow Sydney on Twitter @SydneyBucksbaum
[Photo Credit: Lia Toby/WENN]
More:
Lindsay Lohan's Probation Revoked, Probation Violation Hearing Set
Hugh Hefner Gives Crystal Harris a $1 Million Engagement Ring — PIC
Why 2012 Was Not 'The Year of the Woman'

'90210' Star Shenae Grimes' Engagement Ring (FIRST LOOK PHOTOS)

Kim Kardashians Best Bikini Moments (PHOTOS)