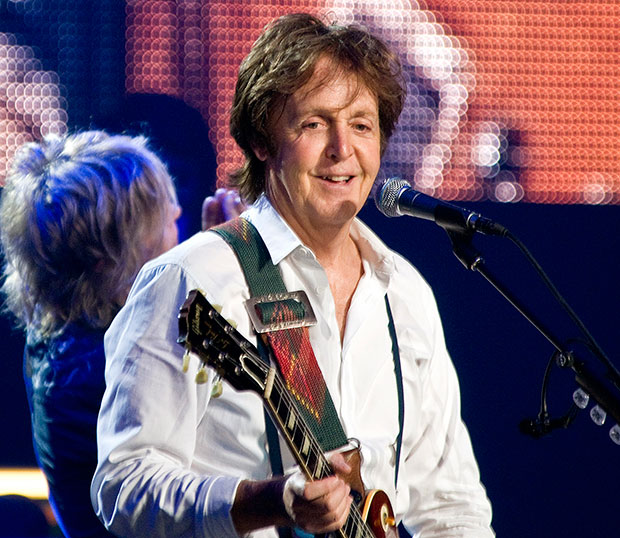 Hey Jude, see if you can wrap your head around this one. Two of the greatest, most influential legends of rock 'n' roll are fusing for what is one of the coolest, if not strangest, collaborations in music history. During Wednesday night's all-star 12-12-12 Hurricane Sandy benefit concert at New York City's Madison Square Garden, Sir Paul McCartney will be performing with "Dave Grohl and Friends."
According to Rolling Stone, some of Grohl's friends, in addition to McCartney and Diana Krall, includes fellow founding member of Nirvana Krist Novoselic and former touring guitarist Pat Smear. In other words, Wednesday night's concert will tout the long, long-awaited Nirvana reunion... featuring a member of The Beatles filling in for the late Kurt Cobain. On the Twitter page for Grohl's other great rock band, Foo Fighters, they cryptically promise, "We have something very special for you tonight NYC..."
You can take a minute to let this all sink in.
Speaking of letting this information all sink in, this is what Sir Paul (who will also serve as musical guest on Saturday Night Live this weekend) recently told the U.K.'s The Guardian regarding his upcoming collaboration: "I didn't really know who they were. They are saying how good it is to be back together. I said, 'Whoa? You guys haven't played together for all that time?' And somebody whispered to me: 'That's Nirvana. You're Kurt.' I couldn't believe it."
Whether or not McCartney will actually sing any of Nirvana's classics (imagine just how different "Smells Like Teen Spirit" would sound) what we do know is that he will join Grohl and co. to "jam with some mates." Hopefully McCartney will also get another chance to jam with his other mate Bruce Springsteen at tonight's event. No way will New York City cut their mics.
The legendary-evening-in-the-making 12-12-12 Hurricane Sandy benefit concert — which also has scheduled performances by The Rolling Stones, Eddie Vedder, Bon Jovi, Roger Waters, The Who, Billy Joel, Alicia Keys, Eric Clapton, Chris Martin, and Kanye West — will begin at 7:30 p.m. ET and air on 37 television networks and 27 websites, making it the most widely distributed live music event ever. Check out the full list of places to watch here.
[Photo credit: WENN]
More:
Bruce Springsteen, Christina Aguilera, Jon Stewart, and More Shine On Hurricane Sandy Telethon
Obama Warms Hearts: Connects NJ Governor and The Boss
Paul McCartney and Bruce Springsteen Silenced in London

'The Hobbit' Cast: A Visual Who's Who Character Guide (Moviefone)