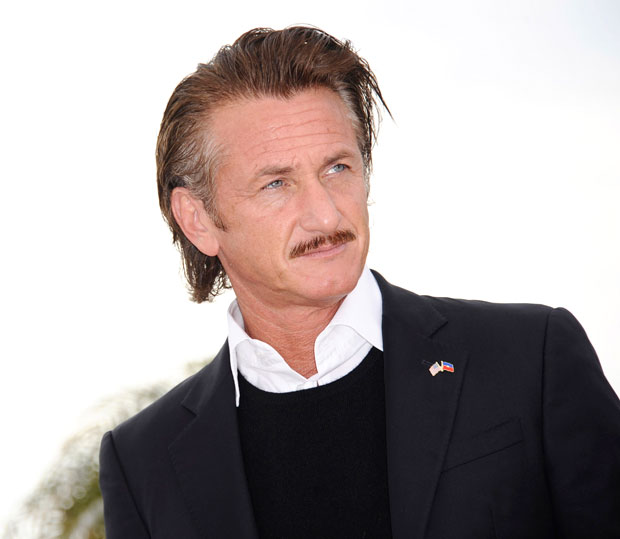 Sean Penn
, Oscar-winning actor and all-around charmer recently gave Esquire some quotes that most entertainment journalists could only dream of. On this, Golden Globe nomination day, it's been making the rounds that the actor/activist told the magazine he thinks "in general the standard of aspiration is low" in Hollywood. He added, "And mostly they're just doing a bunch of monkey-f**k-rat movies, most actors and actresses."
The 52-year-old continued, "I blame them just as much as I do the business. I know everybody wants to make some money, everybody's got a modeling contract, everybody's selling jewelry and perfume. I'm blinded by it. Bob Dylan said in an interview one time — somebody asked him, 'Are you really this reclusive?' He says, 'No, I'm not reclusive, man. I'm exclusive. Exclusivity is like intimacy.'"
Are you not entertained?! No? Don't worry, there's also...
"When I was growing up and somebody like Robert De Niro had a movie come out, it was a cultural event. Because he had such a confidence and a single mission that was so intimate. But when people start using themselves as instruments of a kind of consumerist mosh pit, they're helping that take over. I mean, you are a soldier for it or you're a soldier against it. That's all there is to it. And we have so little of that intimacy left, it's no wonder that interpersonal relationships have become text relationships. It's a texting orgy. When is somebody gonna sit there, with their mate or their child, and just look them in the eye and say, 'I love you?' When is that life??"
When, he asks you... when?!
Then there's the part where he reveals he was a "genius" in school and that when it comes to his past relationships, including that with his ex-wife Robin Wright, he has never truly been loved, just "unaware of the fraud in a few of these circumstances blindly."
Still, Penn didn't completely burn every bridge in Hollywood, despite having a history of doing this sort of thing. I mean, he said he definitely enjoyed working on the delayed drama Gangster Squad and he likes certain actors and actresses in the biz, namely Daniel [Day-Lewis], Philip [Seymour Hoffman], Javier [Bardem], Josh [Brolin] and Jessica Chastain, whom he compares to a "fucking Stradivarius." What a guy. You can read the entire diatribe here.
What are your thoughts on Penn's statements? Is it self-righteous or does he sort of have a point? And is anybody else slightly curious as to what, exactly, a 'monkey-f**k-rat' movie is?
[Photo credit: WENN.com]
More: 
Sean Penn to Show Off Liam Neeson-esque Skills in 'Prone Gunman'
Sean Penn + Robert Smith + Nazi Hunting = 'This Must Be The Place' — TRAILER
Gangster Squad': Sean Penn, Ryan Gosling & Josh Brolin Hang Out with Guns — TRAILER

Justin Bieber Murder Plot Foiled: Two Men Had Planned on Castrating and Strangling the Pop Star (REPORT)

Kim Kardashians Best Bikini Moments (PHOTOS)