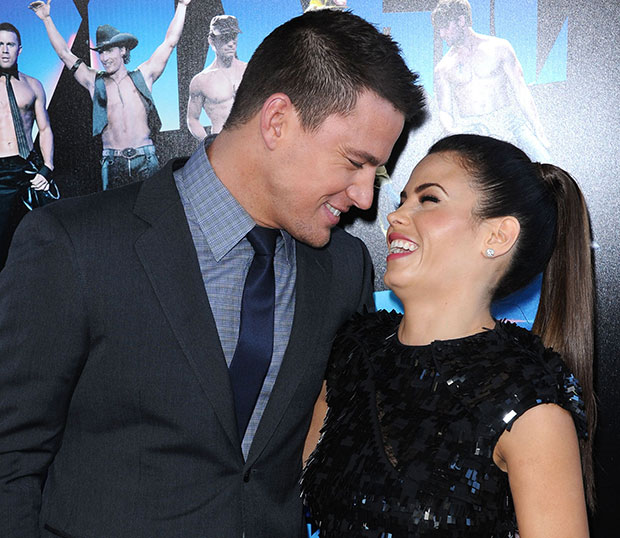 That collective "Awwww" you just heard came from the response to the announcement that Sexiest Man Alive and ubiquitous actor Channing Tatum and his wife of three years, American Horror Story: Asylum star Jenna Dewan-Tatum are expecting their first child. The actress' rep confirmed the joyous news to Hollywood.com. (People first broke the news about the couple, with a statement from their reps that read "[Channing and Jenna] are pleased to announce that they are expecting the birth of their first child next year.") 
In 2012 alone Tatum took on roles that included everything from a male stripper (Magic Mike) to an undercover cop (21 Jump Street), and now the handsome 32-year-old will take on an entirely different role: fatherhood. But it's one that Tatum has been eagerly preparing for for quite some time. 
In his Sexiest Man Alive feature, Tatum talked to the magazine about the possibility of parenthood. "I'm ready; I think [Jenna's] ready. The first number that pops into my head is three, but I just want one to be healthy and then we'll see where we go after that... It's really easy for us guys to say, 'I want like 15 kids,' Jenna will be like, 'Well you better get another wife!'"
Dewan-Tatum, also 32, attended VH1's
Divas
special over the weekend where she told
Access Hollywood
, "We both want kids. When God wants it, we'll be there."
[Photo credit: KM/Fame Flynet Pictures]
More: 

'The Hobbit' Cast: A Who's Who New Character Guide (Moviefone)

'Les Miserables' Unscripted: Hugh Jackman, Anne Hathaway On Singing And Being Modest