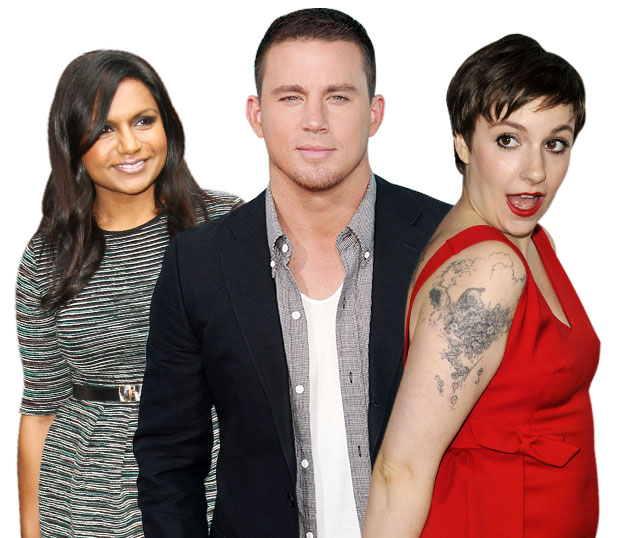 On the screen (big or small), the airwaves, and in the bookstore, we were captivated by new talent in 2012. From fresh faces with fresh voices, like Lena Dunham and Rebel Wilson, to veterans who were really given the chance to shine this year, like Channing Tatum and Jonathan Banks, here are the 20 stars that grabbed hold of our attention in 2012 — and we hope won't let go any time soon. 
TV's Breakout Stars
Lena Dunham
She may be a polarizing figure, but even naysayers can't deny that this was the year of Lena Dunham. The writer/director/producer/author/actress barreled right into the upper echelon of entertainers with her stripped down, brutally honest HBO series Girls and rolled right into a $3.6 million dollar book deal. And all this at the age of 26. As her Girls character Hannah Horvath mumbles while high on opium tea: Dunham's not necessarily the voice of her generation, but she's certainly a voice of a generation. Plus, Louis C.K. agrees that what she's doing is "important," and he's pretty tough to argue with.
Max Greenfield
In just one season, Max Greenfield's wonderfully douchey character Schmidt joined the ranks of classic singularly named sitcom sidekicks like Kramer and Fez. Greenfield's nuanced performance as the (actually quite insecure deep down inside) Schmidt helped make New Girl into one of the best comedies on television, and forever changed the way we said "chutney."
Mindy Kaling
After years of toiling away behind a desk on The Office, Mindy Kaling is finally front and center in her Fox comedy The Mindy Project. Don't let the crappy name fool you, the comedy about a ditzy doctor looking for love in a crazy office is more original and off-kilter than it would suggest.
Jessica Paré
It would be impossible to sing the praises of the brilliant Season 5 of Mad Men without singing the praises of the sexy, talented woman who sang 2012's most unexpected viral sensation: "Zou Bisou Bisou." Whether you loved or hated Paré's Megan, her impact on the show this season was undeniable.
Chris Messina
Every girl needs a guy to drool over, right? For Mindy Kaling, it's the somewhat jerky macho man played by Chris Messina on The Mindy Project. With character turns in Argo, Celeste and Jesse Forever, and recurring spots on Damages and (ugh) The Newsroom, this dreamboat hasn't had any time to rest.
Damian Lewis
As war hero turned terrorist turned (maybe?) CIA ally Sergeant Nicolas Brody on Showtime's acclaimed series Homeland, Damian Lewis kept us on the edge of our seats Sunday after Sunday. Despite Claire Danes' quivering chin's attempt to steal every scene, Lewis' Brody acted as the show's emotional heart. In 2012, Lewis took home the Best Actor in a Drama Series Emmy he so deserved.
Jonathan Banks
When an actor has been in the game as long as Jonathan Banks has, making a career on dozens of supporting and guest roles, it'd take a superhuman performance to launch him to the forefront of the pop culture conversation. After two years as Breaking Bad's no-nonsense backup player Mike Ehrmantraut, Banks earned colossal notoriety with his turn in the AMC series' fifth season. Mike, always a well liked character, became the show's central pull when Banks instilled in him the strength, frustration, and pain that award-caliber performances are made of. His rise and fall as a prominent player in the business dealings of Walter White and Jesse Pinkman and in his own relationship with his beloved granddaughter exhibited everything the crime drama mainstay Banks had at his disposal, about which we might never have known. Thankfully, Breaking Bad creator Vince Gilligan gave this once nameless character the spotlight this year, placing in Banks' capable hands the show's pulsing humanity.
Up Next: The Biggest Breakouts on the Silver ScreenMovies' Biggest Breakouts
Quvenzhane Wallis
It always sparks chatter when a newcomer to the acting game gives a breathtaking performance — but Quvenzhane Wallis is the extreme. A five-year-old first-time actor at the time of her role in the magnificent tearjerker Beasts of the Southern Wild, Wallis doesn't just take your breath away, she lays claim to your entire respiratory system. No performance in all of 2012 was bigger than young Wallis'. Despise her age, she managed to not only to keep up with director Benh Zeitlin's Earth-shattering parable for the tragedies of Hurricane Katrina, but she launched the story to otherworldly levels of emotional resonance. Wallis' role in the feature has attracted her to great auteur Steven McQueen, which means that she'll be enjoying a long, steady career of quality projects as long as she might wish to.
Ezra Miller
Considering readers' devotion to Stephen Chbosky's classic, life-affirming novel The Perks of Being a Wallflower, the celebration of the book's big screen adaptation is all the more impressive. One of the most important elements in the construction of such a perfect adaptation is the casting, one of the many areas in which writer/director Chbosky triumphed: Logan Lerman was a terrific Charlie and Emma Watson a stellar Sam. But standing out among them was Ezra Miller, who brought so much life and humor, so much pain and turmoil into the character of Patrick that you'll forget you ever imagined him in another light. Earlier in the year, Miller dazzled and horrified as the tormented teenage star of We Need to Talk About Kevin, inspiring shivers and tears with his incarnation of the dark, disturbed main character driven to horrible violence. As such, we can call Miller's range boundless.
Rebel Wilson
It's no small feat to steal the spotlight from comedy bigwigs like Kristen Wiig and Maya Rudolph, especially when you only have a few short lines in the entire movie – but that's exactly what Rebel Wilson did in Bridesmaids. This hilarious Aussie comedian became a household name after that, going on to star in another raunchy wedding-themed film Bachelorette, and becoming the first person cast in the collegiate a capella comedy Pitch Perfect.
Dane DeHaan
DeHaan looks like a young Leonardo DiCaprio — meaning he would have been fine taking easy parts that capitalized on his good looks. Luckily, in 2012 the actor did so much more than that, parlaying his time on In Treatment into a string of roles in risky works like Chronicle, Lawless, and Lincoln. 2013 is also looking bright, with The Place Beyond the Pines, a sprawling family drama that debuted to raves at this year's Toronto Film Festival, arriving in the Spring, and Sundance 2013 premiere Kill Your Darlings, which DeHaan costars in alongside Daniel Radcliffe. Oh, and he just landed a juicy part in The Amazing Spider-Man 2, in case all that heavy material was starting to scare you.
Channing Tatum
"An hour [to sum up] the year? Am I supposed to just scratch the surface of Channing Tatum's meteoric rise?" We feel your pain, Liz Lemon. There's no way this entry would do justice to the year Tatum had, what with his People's Sexiest Man Alive title and eclectic, surprising performances on the big screen (Magic Mike, 21 Jump Street, The Vow). It's his world now, we're all just just happily living in it.
Scoot McNairy
After his impressive turn in the 2010 sci-fi indie film Monsters, it was only a matter of time before Hollywood picked up on McNairy and wrangled him for bigger features. Going quiet for more than a year, McNairy dominated the Fall award season with eclectic roles in Argo, Killing Them Softly, and Promised Land. The actor held his own against big names like Ben Affleck and Brad Pitt, a nearly impossible task made easy by McNairy's ability to slip into any shoes, from criminal junkie to farmhand to Iranian embassy worker.
Up Next: Music and MoreThe Biggest Breakouts of Music, Sports, and Literature
Ryan Lochte
Though he may now be the world's most famous "Sex Idiot" per 30 Rock, Ryan Lochte broke out in 2012 thanks to his skills in the pool. At least initially. After winning five medals in London during the Summer Olympics, Lochte's fame grew thanks to his go-to exclamation ("Jeah!"), his economy of words ("I like swimming because racing"), and of course, that grill. Oh, and he's pretty hot too.
Phillip Phillips
Despite his extensive health problems (which plagued him through his run on American Idol), Phillips has managed to carve out a nice little fan base with his ubiquitous hit "Home." After winning the Fox singing competition, Phillips recorded his first and only Mumford and Sons-ish single, sending it straight to NBC as the theme of this year's Summer Olympics in London. Now, the familiar trotting and cooing of Phillips' musical equivalent of comfort food can be heard just about everywhere. If only that album of his would come our way a little faster!
Ed Sheeran
If you turned on the radio at some point this year, you know who Ed Sheeran is. This English singer-songwriter is best known for his hit, "The A Team," and for co-writing "Little Things," "Over Again," and "Moments" for super group boy band One Direction. He also played at the Olympics' closing ceremony and co-wrote (and is heard on) Taylor Swift's track "Everything Has Changed."
Frank Ocean
This year, Ocean broke out of his role as a ghost writer for big acts like Justin Bieber and John Legend and released one of the most beloved albums of 2012, Channel Orange, which features singles like "Pyramids" and "Sweet Life" characterized by subdued rhythms, experimental elements, and haunting melodies that music-lovers quickly embraced. But it wasn't simply his talent and flair for innovation that shined in 2012, it was his bravery. Ocean became one of the first openly gay hip-hop artists in mainstream music, and was quickly embraced for his openness in a world often characterized as homophobic.
Jess Walter
With six novels and a prestigious journalism career under his belt, Jess Walter is in no way a newcomer. However, his extraordinary novel Beautiful Ruins not only snagged a spot on the New York Times's 100 Notable Books of 2012, but also made him a household name. Walter's sweeping tale of love, which spans five decades and takes us from the Italian countryside in the 1960s to Hollywood pitch meetings in the present day, is the kind of story that stays with you. Walter is similarly a talent who is sure to weather the ages.
Gillian Flynn
Gillian Flynn's first two novels (Sharp Objects and Dark Places) earned critical acclaim and book awards buzz, but no book made more of a splash this year than Flynn's tightly written thriller Gone Girl. The eye-catching black and neon cover was a subway staple, and book clubs all over the country discussed the novel's big twist at length. Now, Flynn is in talks to adapt her suspenseful tale of betrayal and murder to the big screen, ensuring we'll see much more of her, as well as her unforgettable characters, Nick and Amy, in the years to come.
E. L. James
After the year she's had, E. L. James hardly needs an introduction. In 2012, James transformed from a British housewife writing Twilight fan fiction in her spare time to the year's best-selling author (for her erotic Fifty Shades trilogy). She was named one of Time's 100 Most Influential People in the World, and one of Barbara Walters' 10 Most Fascinating People. Not too shabby.
[Photo Credit: WENN (2); INF Photo]
More:
Staff Picks: The 15 Best TV Shows of 2012 (And the 5 Worst)
Play it Again: The 12 Best Albums of 2012
The 20 Best Movies of 2012 (and the 5 Worst)
You Might Also Like:

20 Hottest Bikini Bodies of 2012: Megan Fox and More!