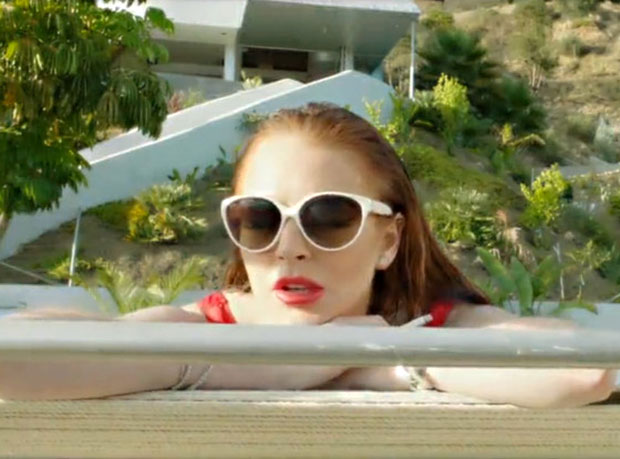 Half-used bottle of hair dye Lindsay Lohan made a porn movie. Well, not exactly, but she did star with adult actor James Deen in The Canyons, written by Twitter scourge Brett Easton Ellis and directed by Paul Schrader (of Raging Bull, Taxi Driver, and American Gigolo fame). Of course, we all want to hear all the dirty details behind the microbudget film and just how many rails she snorted off a naked DJ who is riding a pony and wearing glittery chaps.
Sadly, there is none of that in Stephen Rodrick's captivating New York Times Magazine story about the making of the film, but there are all sorts of nutty details that make LiLo sound like an absolute nightmare. You really should read the whole thing in all its dirty details, but here is a breakdown of the outlandish things she Ellis and Schrader had to deal with while making the movie:
Dina Lohan Butting In: "The actress's mother, Dina Lohan, sits at the next table. Mom sweeps blond hair behind her ear and tries to eavesdrop."
Bitching About Liz & Dick: "At their second meeting, Lohan complained to Schrader about a biopic she was shooting for Lifetime, in which she played Elizabeth Taylor, one of her role models. She proclaimed the director a jerk, her co-star a nightmare and the crew unfriendly."
Not Showing Up: "There was just one missing: Lohan."
Making Suggestions About Casting After the Cast Is Complete: "Across the table, [costar Nolan Gerard] Funk could see that his name had been crossed out in Lohan's script and underneath were the names of three or four actors as possible replacements. [Brett Easton] Ellis saw that [James] Deen's name also had a line through it."
Suggesting Cast Members Be Replaced with Jared Leto: "Lohan squealed and said, 'How about Jared?' Schrader nodded approvingly. 'Jared Harris?' 'No, Jared Leto.'"
Not Showing Up: "Then she disappeared for a few days."
Stalking the Director and Freaking Out When She's Fired: "She pounded on doors until she found Schrader's room. As she banged on his door, she texted him manically."
Doing Her Own Makeup... Badly: "It was true; Lohan's visage had a Kabuki quality to it."
Jumping Out of the Back Seat of the Car and Disappearing for a Lunch Break: "That's when his passengers did a jailbreak, jumping out of his car. [Publicist Steve] Honig frantically pushed buttons until the gate opened and the four of them dashed for Lohan's assistant's car."
Being Distractingly Jealous of Her Costar While Locking Herself in a Closet Instead of Filming a Sex Scene with Three Porn Stars: "'The thing that's going to explode from this film is James Deen!' [Schrader said.] Lohan screamed from the back of the closet. 'That's what I'm afraid of!'"
Driving Drunk: "He noticed that she...had been drinking...Quietly, Pope told Lohan that he could get her a driver to take her home. But she refused, jumped into her Porsche and headed down the dark, narrow road."
Being Amazing: "Now, without the garish makeup, Lohan looked sadly beautiful, and it was easy to see why men like Schrader were willing to put their lives in her hands. The camera rolled, and Deen moved in slowly to touch her face."
Not Showing Up: "Lohan missed her morning call, and then she left the shoot for lunch with friends, running up a $600 tab on sushi, sake and vodka."
Showing Up Then Leaving Because of a Concocted Illness: "His diagnosis: An inner-ear infection. She was done for the day."
Partying All Night with Lady Gaga: "'Lindsay was out with Lady Gaga till 5:30 a.m. Her call was 6 a.m.'"
Quoting the Most Eye-Rolling Scene in Liz & Dick While Attempting To Make You Feel Sorry For Her: "I needed time to figure out all the crap in my life that I'd created for myself, essentially, and I kind of realized, What am I doing? I like doing this. I like being here. This makes me happy. There was a line in the 'Elizabeth' movie where she says, 'I'm so bored, I've never been taught what to do when I'm not working,' and I'm kind of figuring that out now."
Coming Up with a Brilliant Plan to Get Access Hollywood to Foot the Bill for Production: "'We'll have Access Hollywood pay for it. They'll film it, I'll answer three questions about the movie and then they'll pay for it. It's really easy.'"
Not Showing Up: "It took two months and the quasi intervention of Lohan's father to get Lohan to finish two hours of looping for the outdoor scenes."
Follow Brian Moylan on Twitter @BrianJMoylan
[Photo Credit: Sodium Fox]
More:
Lindsay Lohan Makes Her First Foray Into Porn in 'The Canyons' Trailer
Lindsay Lohan Keeps Finding Work, Lands Part in Bret Easton Ellis' 'The Canyons'
Lindsay Lohan Declares Herself a Romney Supporter

Megan Fox's 12 Hottest Moments (Moviefone)

Ryan Gosling's 'Airbrushed' Abs: Plus 19 More Reasons We Love the Actor (Moviefone)