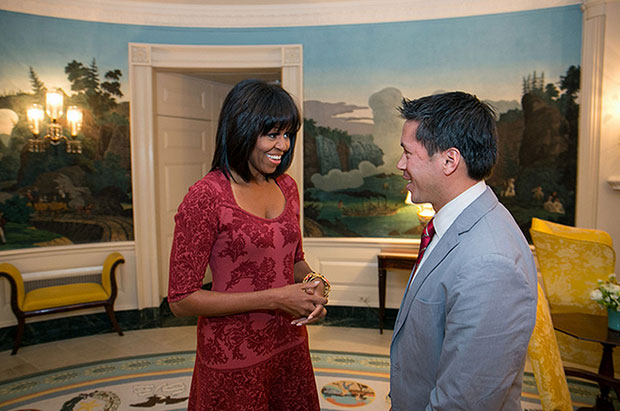 On January 17, 2013, First Lady Michelle Obama turned 49 years old. But, more importantly, she debuted a new haircut. Michelle Obama, it has been decided (mostly by me and the Internet), is the loveliest of all the FLOTUSes. With each passing convention, press conference, and White House dinner, this becomes more clear. I'm all, "Jackie O. who? Michelle is wearing J. Crew."
And now, Michelle has managed to eclipse herself. She overshadows her own birthday with a totally bangin' haircut. Is it offensive to call the First Lady "bangin'"? Probably. My apologies, Michelle, but you look good (and I can't resist a pun).
Michelle's sleek, face-framing face fringe looks chic and sophisticated. (As if she could ever not look chic and sophisticated.) Unfortunately, not everyone pulls off bangs so well. Launch our gallery to see the best and worst in celebrity bangs — the hairstyle, you dirty minds.
The Best and Worst in Celebrity Bangs
Follow Abbey Stone on Twitter @abbeystone
[Photo Credit: White House]
More:
Sayonara, Scientology! 10 Stars Who Have Said 'No Thanks' to the Controversial Religion
'Unflattering' Jennifer Lopez Photo Sparks Controversy: Should She Be Mad?
'Twilight' Star's Tattoo Mistake: Celebrities with Cringeworthy Ink

54 Cutest Celebrity Kids! (Celebuzz)