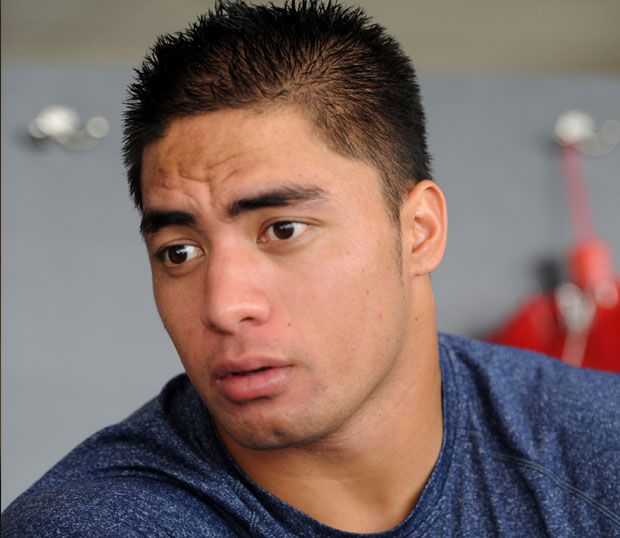 Manti Te'o is sticking to his story. Speaking to ESPN Friday, the Notre Dame football player claims he was indeed catfished, contrary to rumors that Te'o knew his online girlfriend, Lenny Kekua, knew she never existed in the first place.
"I wasn't faking it," he told ESPN. "I wasn't part of this."
Following news that Te'o was duped online by a woman who supposedly died of leukemia in September, many began to speculate that the football player was actively perpetuating the story of Kekua's existence despite knowing she was a personality allegedly made up by Ronaiah Tuiasosopa, a former friend of Teo's.
While the Notre Dame player is claiming he was tricked, he did, however, admit to ESPN that he had lied to his father and the public about having met Kekua prior to her "death." "I knew it was crazy that I was with somebody that I didn't meet," he said. "So I kind of tailored my stories to have people think that, yeah, he met her before she passed away."
So if Te'o wasn't responsible, who was? Te'o agreed with reports that Tuiasosopo was behind Kekua's online profile, and also claimed two others — who have since apologized to him — had created Te'o's fake girlfriend. "When [people] hear the facts, they'll know," he said. "They'll know that there is no way that I could be part of this."
[Image Credit: AP Images]
More:
Sundance Doc Makes Interesting Comparisons to Manti Te'o, Lance Armstrong Controversies
Why 'Catfish' is MTV's New 'Jersey Shore' (Thanks to Manti Te'o)
Te'o Hoax: 'Catfish' Star Nev Schulman Reveals His Stance on the Controversy
Craziest Celebrity Swimsuits (Celebuzz)