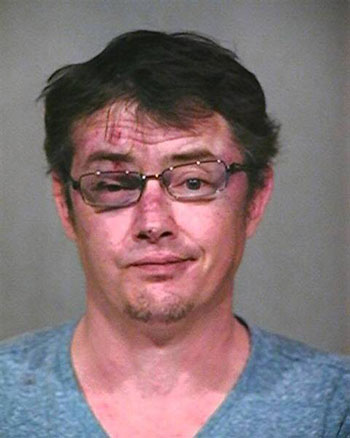 When you've starred in a beloved comedy called Dazed and Confused, you're pretty much setting yourself up for headlines that call you that exact same thing when your mugshot photo makes you look, well, dazed and confused. (Not to mention bloodied, bruised, and an all-around bummer.) Jason London was arrested over the weekend in Scottsdale, Arizona, where he was charged with assault with intent to injure and disorderly conduct stemming from a bar fight. According to Reuters, London also reportedly intentionally defecated in the police car he was taken away in. (What a s**tty thing to do.) 
Now why he got into the scuffle that lead to his arrest in the first place depends on who you believe. (And, as you'll recall, those London brothers have been known to tell some interesting tales.) The 40-year-old actor took to his Twitter to say that the allegations against him were false. He posted some choice words on Tuesday, "I would never say or do the crap they are reporting. Have faith in me. The truth will come out and you will see." London, who is married to actress Sofia Karstens (Lovelace), added, "Some guy thought I was hitting on his girl and had me jumped. My wife was in the next room, had no idea what even happened. I hate Arizona."
The police had a different story regarding London's arrest at the Martini Ranch bar in Arizona, however. Apparently, London had sneezed on an unidentified man, who asked him to apologize. When London didn't, he punched the patron and was soon escorted out of the bar by bouncers, who had to "defend themselves" against the star. (One of the bouncers was hurt and listed as a victim.) London, who "showed obvious signs and symptoms of extreme alcohol impairment" and was "belligerent" towards the paramedics who looked at him. All this before reportedly pooping in the back of a police car (where he complained about the smell) before being taken in for that now-infamous mugshot. 
But, don't worry Jason, we know things are a bit rough right now. Just remember you're in good company with Lindsay Lohan, Paris Hilton, and two of the stars of Teen Mom as you've officially joined the pantheon of crazy celebrity mugshots. Smile!
[Photo credit: Scottsdale PD]
More: Chris Brown Allegedly Punches Frank Ocean in a Parking Lot
Here We Go Again: Lindsay Lohan Arrested for Assault
Thomas Gibson, 'Criminal Minds' Star, Arrested for DUI

20 Hottest Celebrity Bikini Bodies