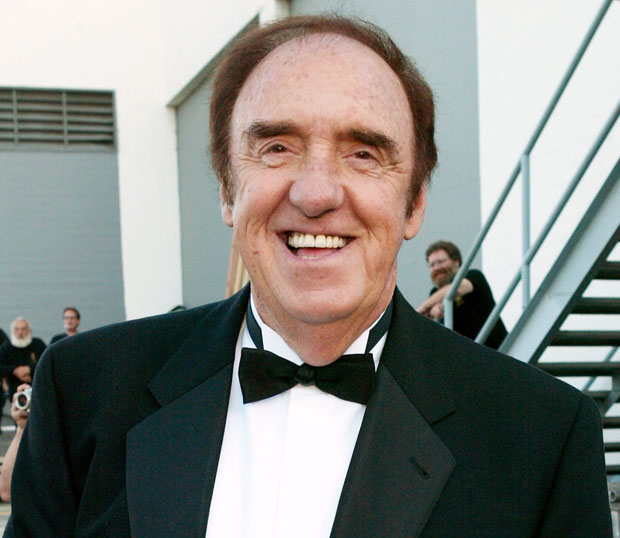 Golly! Jim Nabors, TV's Gomer Pyle and star of The Andy Griffith Show, has married his partner of 38 years, Stan Cadwallader. A longtime resident of Hawaii, Nabors, 82, confirmed the news and gave the only interview about the nuptials to the TV show Hawaii News Now. The private ceremony occurred on Jan. 15 in front of a judge in a room at Seattle's Fairmont Olympic Hotel, with a very small circle of family and friends, just weeks after same-sex marriage became legal in Washington state. Washington's King County Recorders Office has not yet responded to Hollywood.com's request for confirmation of the ceremony.
Nabors is best known as playing good-natured but dimwitted Mayberry, North Carolina gas-station attendant Gomer Pyle throughout the '60s, first on The Andy Griffith Show, then on its spin-off Gomer Pyle U.S.M.C, in which he enlisted in the Marines. Always playing a lovable rube, Nabors, himself a native of Alabama, can be seen as a precursor to the hixploitation craze of the '70s. Though indeed a stereotype of southern yokeldom, he only ever portrayed a benign version of a hillbilly, unlike later more sinister presentations of backwoods denizens in, say, Deliverance or Walking Tall. With his deep baritone voice, he also maintained a successful singing career for decades. In the early '70s, after the five-season run of Gomer Pyle, U.S.M.C., Nabors moved to Hawaii, where he began a relationship with Cadwallader in 1975.
Cadwallader, now 64, was a firefighter who eventually came to work for the TV star. In a phone interview with Hawaii News Now, Nabors says, "It's pretty obvious that we had no rights as a couple. Yet when you've been together 38 years, I think something's got to happen there. You've got to solidify something. And at my age, it's probably the best thing to do. I'm 82 and he's in his 60s and so we've been together for 38 years and I'm not ashamed of people knowing, it's just that it was such a personal thing, I didn't tell anybody."
Nabors claims that his co-stars and colleagues have known about his sexuality for most of his career, though he's never talked about it publicly. "I haven't ever made a public spectacle of it," he says. "Well, I've known since I was a child, so, come on. It's not that kind of a thing. I've never made a huge secret of it at all."
Still, Nabors remains a Red State fixture — he's sung "Back Home Again in Indiana" before every Indy 500 race for more than 30 years — and his public confirmation of his sexual orientation is significant. Rumors about being gay had dogged him for years, and a popular urban myth in the '70s was that he'd gotten secretly married to Rock Hudson. Of course, the urban myth also alleged that Hudson had taken the last name of Nabors' TV alter ego and had become "Rock Pyle."
However, don't expect Nabors to become a leading voice in the fight for marriage equality anytime soon. "I'm not a debater," he says. "And everybody has their own opinion about this and actually I'm not an activist so I've never gotten involved in any of this."
Follow Christian Blauvelt on Twitter @Ctblauvelt
[Photo Credit: Getty Images]
More:
Morgan Freeman Speaks In Support of Gay Marriage in New TV Ad
8 Stars Who Changed Their Looks When They Changed Their Significant Others
Hillary Clinton Erupts at Benghazi Hearing: Don't Be Afraid to Let It Out, Politicians

Miley Cyrus Teaches Us Yoga on the Beach — INFOGRAPHIC