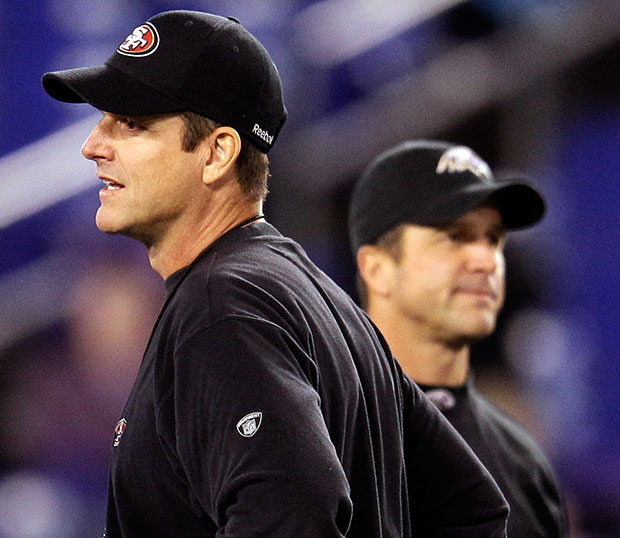 Already a month into 2013, some of us might be taking issue with the year's deficit of opportunity for pop culture showdowns. Following a particularly fruitful autumn — one drenched in battles of political (Elephants Vs. Donkeys and Pizza Vs. Burritos), athletic (Tigers Vs. Giants), and fantastical (Edwards Vs. Jacobs and Trolls Vs. Dwarves) natures — the New Year has propagated quite a civil attitude on the pop culture front… save for an inceptive Babies Vs. Old Men mêlée. And while we saw a good deal of historic events hit the headlines in January — like presidential inaugurations and 30 Rock finales — we've yet to stumble upon a marvel worthy of showdown status. But fear not, you desensitized combat junkies, for the biggest face-off of the year is on the horizon: the Super Bowl.
Yes, the Super Bowl. A ratings giant so stimulating in its fury, it is reported to be the leading cause of larynx irritation (next to supermarket parking lots). Responsible for undoing the work of marriage counselors nationwide, the Super Bowl is the perfect new subject for our Pop Culture Battles series. Unfortunately, the teams playing this year are the Ravens and the 49ers. And what the hell are we supposed to do with "49ers"?
But there is another route. For, the true rivalry this year will transpire on the sidelines, as Baltimore Ravens coach John Harbaugh and San Francisco 49ers coach Jim Harbaugh are, indeed, brothers. And what is the only category of human bearing more animosity than opposing team coaches? Siblings.
As such, thanks to the wonder of Super Bowl XLVII, we dive with vigor into what might be our most heated battle yet — Johns Vs. Jims. Place your bets, order your hot wings, crack open your beers. It's going to be a long, commercial-filled skirmish.
And yes, we know. This is ridiculous.
FIRST HALF
The Superman Play: Jonathan Kent Vs. Jimmy Olsen
Coaching for the Johns: Jonathan Kent, Clark's Kansas-native adoptive father
His Playbook: Filled with old school sensibilities, life lessons, and several diatribes devoted to the importance of maintaining a strong jaw
Coaching for the Jims: Jimmy Olsen, nubile photographer for The Daily Planet
His Playbook: Filled with an overeager attitude and a perpetual smile, but an almost nonsexistent focus on actual skills of any kind
The Winner: Jonathan Kent. Dude's got class. (1/0)
The Ordinary Hero Play: John Ferguson Vs. Jimmy Stewart
Coaching for the Johns: John "Scottie" Ferguson, Jimmy Stewart's fear-stricken hero in Alfred Hitchcock's Vertigo
His Playbook: Filled with one rule, over and over — avoid high places.
Coaching for the Jims: Actual Jimmy Stewart.
His Playbook: Filled with admittedly far-fetched ambitions to bestow unto his loved ones natural lunar satellites.
(Warning: the below clip WILL make you cry.)
The Winner: Real Jimmy Stewart. Tell me that clip didn't make you burst out in tears. (1/1)
The Belushi Play: John Belushi Vs. Jim Belushi
Coaching for the Johns: John Belushi, film and sketch comedy icon
His Playbook: Filled with memorable SNL skits, John Landis movies, and some sordid personal affairs
Coaching for the Jims: Jim Belushi, television presence
His Playbook: Filled with canned laughter and some wacky neighbors
The Winner: John Belushi... naturally. (2/1)
The Room Play: The John Vs. The Gym
Coaching for the Johns: The john. The lavatory, the restroom, the W.C. — you get the picture.
Its Playbook: Let's just gloss over this one.
Coaching for the Jims: The gym — the sole source of self-worth for a large percentage of the United States' North Atlantic region.
Its Playbook: Filled with repeated mandates to wipe down equipment after using it.
The Winner: The gym, if only for its prevalence in reality television culture. (2/2)
SECOND HALF
(The second half of our Pop Culture Super Bowl consists of a series of plays that, through the grace of Beyoncé, can be perfectly executed via single videos illustrating the rival coaches' showdowns.)
The Poli-Economic Play: Jon Stewart Vs. Jim Cramer
Coaching for the Johns: The Daily Show host Jon Stewart
His Playbook: Filled to the brim with dry wit, a sharp understanding of the political machine and its enslaved media, and that New Jersey wrath
Coaching for the Jims: Mad Money host Jim Cramer
His Playbook: Filled with incriminating sound bites, and a bunch of rubber hammers…
The Winner: Jon Stewart... and Mr. Stewart, we thank you for that. (3/2)
The Big Bang Theory Play: Johnny Galecki Vs. Jim Parsons
Coaching for the Johns: Johnny Galecki, portrayer of Leonard Hofstadt on The Big Bang Theory
His Playbook: Filled with anxious grimaces and pleas for romantic attention from the neighbor girl
Coaching for the Jims: Jim Parsons, portrayer of Sheldon Cooper on The Big Bang Theory
His Playbook: Filled with deadpan delivery and, somehow, a whole bunch of Emmys
The Winner: Jim Parsons. You can't argue with Emmys (well, you can, but it's futile). (3/3)
The Greendale Community College Play: Jim Rash Vs. John Goodman
Coaching for the Johns: John Goodman's Community character, Vice Dean Robert Laybourne
His Playbook: Filled with a thespian articulation, a hyper-menacing presence, and a passion for air conditioner repair
Coaching for the Jims: Jim Rash's Community character, Dean Craig Pelton
His Playbook: Filled with costumes. Lots and lots of costumes.
The Winner: Jim Rash. Goodman may have won the battle, but Rash came out on top in the end. (3/4)
The Lost Play: John Locke Vs. Jim LaFleur
Coaching for the Johns: John Locke, recovering paraplegic and spiritual know-it-all
His Playbook: Filled with requests for his players to "believe in the island"
Coaching for the Jims: Jim LaFleur, a.k.a. James Ford, a.k.a. Sawyer
His Playbook: Filled with pejorative nicknames and romance novels
The Winner: Good ol' Saywer. Because that's a chin you can get behind. (3/5)
And so, the victory goes to the Jims. Does this mean that the 49ers will take the Super Bowl this year? Almost definitely — these battles are cold, hard science. Sorry, Baltimore. At least you have The Wire.
Note: We would like to extend an apology to all the Johns and Jims we wanted to include in this Pop Culture Super Bowl, but couldn't due to time constraints: Jim Davis, John Williams, John Lennon, Jim Carrey, Jon Hamm, Jimmy Fallon, Jimmy Buffett, Jimmy Kimmel, Johnny Cash, John McCain, Jimmy Carter, John Carter (of Mars), Jim O'Heir, Jim Halpert, John Hodgman, Jim Morrison, Jimi Hendrix, Johnny Depp, Johnny 5, John F. Kennedy, Jonathan Taylor Thomas, Jonathan Rhys Meyers, John the Baptist, Jimmy the Greek, Jon Voigt, Jon Bon Jovi, Jim Gaffigan, Jim Caviezel, and John Laroquette. We love must of you.
[Photo Credit: Getty]
More:
'Mad Men' and The Super Bowl: How Would Sterling Cooper Draper Pryce Advertise?
The Hottest Guys of Super Bowl XLVII: Ravens Vs. 49ers
7 Super Bowl Commercials That Will Make You Bawl
---
You Might Also Like:

Biden? Ford? Surprisingly Hot Young Pics of Politicians

Who Wore This Crazy Hat?

Stars Who Changed Their Look After Love