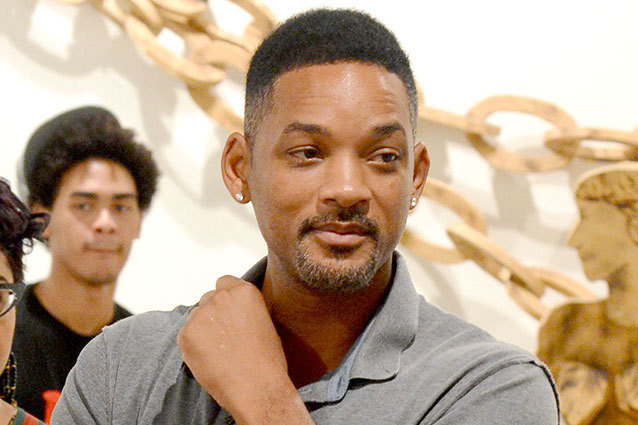 When you go to the multiplex this weekend, you may want to pay with cash. Keep your personal info stowed away — there is an Identity Thief about.
Typically, identity theft is not what we would call great comedic fodder. Anyone who has been the victim of this invasive crime knows how detrimental it can be. While it is uncertain whether the actors in Seth Gordon's film have ever experienced this grave misfortune, if you have ever had your identity stolen, you may take solace in the fact that plenty of celebrities can commiserate.
Will Smith
In 2009, Smith was irate to find that several false accounts had been opened in his name. A forty-five-year-old con artist used the name William C. Smith, full name of the rapper-turned-actor, to charge more than $33,000 in fraudulent debt. The craziest part of this particularly story is that when this thief was arrested for stealing Big Will's identity, he was on parole for committing the same crime against former Atlanta Hawks basketball player Steve Smith. There's no need to argue, the parole board just don't understand.
RELATED: Lena Dunham Says She Voted, Brooklyn Says She Didn't
Steven Spielberg
Spielberg is world-renowned as a legendary dream weaver, but in the mid-1990's, he experienced a rather nightmarish invasion of his privacy. An inmate of a Tennessee prison used nothing but a telephone and some devious wit to obtain all of Spielberg's personal information. While he didn't steal anything from the filmmaker, he did use the info to keep eerie tabs on everything Spielberg bought on his American Express card. Jackson would later supply this information to the head of a Hollywood studio, hoping to secure a movie deal. And you thought the pale, dying E.T. was unsettling.
Tiger Woods
Pro golfer Woods found out the hard way that perhaps the security measures surrounding his personal information were frighteningly subpar. Career criminal Anthony Lemar Taylor got a hold of Woods' info and used it to illicitly purchase more than $50,000 in goods and services. Not only that, but Taylor somehow obtained a fake drivers license, social security card, and even a military identification card, all in Woods' name. He may have looked nothing like Tiger, and actually got his middle name wrong on the falsified documents, but Taylor amassed an entire storage unit full of ill-gotten merchandise.
Oprah Winfrey
Winfrey is one of the most recognizable women on the planet. Unfortunately, that also makes her a prime target for identity thieves. Years ago, a busboy was able to obtain social security numbers, birth dates, and even addresses of not only Oprah, but 200 of the occupants of Forbes magazine's 400 Richest People in America list. The thief evidently obtained all the info from, ironically, credit protection and reporting company Equifax using a library computer, fake couriers, and cell phones. Among the other victims of this massive scam was, again, Steven Spielberg.
RELATED: 10 Crimes Committed By the Characters of Twilight
Paris Hilton
While it is uncertain just who in their right mind would want to assume Hilton's identity, she is in fact the heiress to a hotel dynasty so her net worth just might overshadow her personality flaws for criminals. Oddly enough, the identity theft Hilton experienced in 2005 was not financially motivated. Apparently someone used her name to set up a fake website called Paris.org. How did Paris respond? Only by insisting that her name was a registered trademark and that this so-called identity thief should pay her for the privilege of using it. Evidently she forgot about that whole, you know, French city thing. In a separate incident, Paris' phone was later hacked by a Minnesota teenager and her contact info posted online. It is possible that her notoriety makes her a target.
Ricky Gervais
Though identity theft is one of the fastest-growing crimes in America, it affects people, and celebrities, all over the world. Take Gervais for example. The British comedian was the victim of a rather bizarre scam back in 2009. Thieves transferred over 200,000 pounds from his bank account in an attempt to purchase gold bullion. Though they were crafty enough to use an insider at the bank to get Gervais' information, the scammers tried to use a fake passport, replete with a cutout photo of Gervais from the DVD box of The Office, to pick up the gold. We have to believe that even Gervais found that last part funny.
Liv Tyler
If you can't trust your hairstylist, what is the world coming to? This was the cold hard fact facing The Lord of the Rings' Tyler in 2011. It seems her Beverly Hills coiffeur used her credit card number to illegally obtain thousands of dollars worth of merchandise and services. However, the deceitful stylist's greed was not limited to just Tyler's assets. Among the seventeen clients she fleeced in a five-year period were Tyler, Anne Hathaway, Penelope Cruz, and Melanie Griffith. This is why Bill Gates cuts his own hair.
[Photo Credit: WENN]
---
From Our Partners:

Young Han Solo Movie: Dave Franco to Star? (Moviefone)